Teaser Trailer: The Goon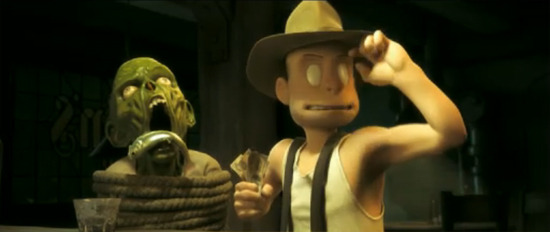 ...aaand we're back with more (sorta) David Fincher news. But if you're one of the many people irritated at the whole idea of Fincher remaking The Girl With the Dragon Tattoo, you might be able to get behind this one. Here's some of the first footage for The Goon, the CGI animated adaptation of Eric Powell's comic book series. You won't see Fincher's involvement (he's producing) but you will hear Paul Giamatti as the voice of Frankie. (That's the skinny chap in the a-shirt.) This is a preview of the stuff that will be shown at Comic Con in a few days, but for now it's the only up to date Goon animation online.
MTV scored this clip, which is quite a bit like one of the two clips shown last year at Comic Con. (That material was never officially released online.) The animation here, by Blur Studios, is a lot more polished, and there's much more variety to what was shown. I've never read Powell's comic, but I was interested in the film based only on Fincher's involvement. Last year's Comic Con panel, which was undiluted comic insanity, made me into a full-blown believer. For pure nutso entertainment value, I'm anticipating this film perhaps more than any other animated project.
MTV says that Fincher and Giamatti will both be at the Comic Con panel this coming Friday. That should be fun. But what about Clancy Brown? He was announced last year as the provisional voice of The Goon. 'Provisional' because the film hadn't been greenlit at that point, so there was no official contract. But, like Giamatti, Brown wanted to do it. The only time we hear the Goon's voice in this clip is right at the end, and it sounds like that could be Brown.  Hope so.
Better yet, all the footage that will be shown this year will end up online, via MTV. Hopefully they'll put the whole panel up — if it's anything as entertaining as last year's, it'll be worth a look.
(And if you're wondering about the song in this preview clip, it's 'White Trash,' by Southern Culture on the Skids, from the record 'Dirt Track Date.')