Teaser Trailer: Faster, Starring Dwayne Johnson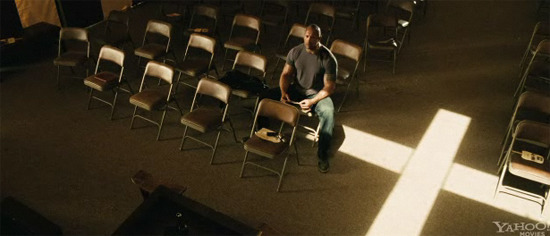 CBS Films hasn't exactly been setting theaters on fire; the company has released Extraordinary Measures and The Back-Up Plan. The company is going for a much more action-oriented appeal with Faster, which stars Dwayne Johnson as a guy out for revenge after being released from prison.
The first teaser for Faster is out now, but does it offer more than just a straight-up revenge tale with a title screen that looks like it was borrowed from The Fast and the Furious? Well...
Yahoo has the trailer, in which we're given the basic setup: Dwayne Johnson is angry. Really angry. There's not a whole lot of story given up here; instead the clip focuses on Johnson, all grim, and his wonderful car, and a few stunts. Based on the synopsis, his name is actually Driver, but to the best of my knowledge there's no relation to the video game series called Driver. (And Johnson was once attached to the Spy Hunter film, but now we're getting into several degrees of video game movie separation.)
But what's up with the voice from the radio that seems to be talking directly to Johnson's character? It's almost like Super Soul, the DJ who kinda spoke to / lionized the hero, Kowalski, of Vanishing Point. I expect the sermon we hear is actually a sermon of sorts, and isn't really coming from the radio. But I'd kinda like it to be a direct reference to Vanishing Point, anyway.
Here's the official synopsis:
After 10 years in prison, Driver has a singular focus – to avenge the murder of his brother during the botched bank robbery that led to his imprisonment. Now a free man with a deadly to-do list in hand, he's finally on his mission... but with two men on his trail – a veteran cop just days from retirement, and a young egocentric hitman with a flair for the art of killing and a newfound worthy opponent. The hunter is also the hunted. It's a do or die race to the list's finish as the mystery surrounding his brother's murder deepens, and new details emerge along the way hinting that Driver's list may be incomplete.
Faster is directed by George Tillman, Jr. and stars Dwayne Johnson, Billy Bob Thornton, Maggie Grace, Moon Bloodgood and Carla Gugino. It opens on November 24.