Comic Con: Let Me In Panel, Footage Description And Video Blog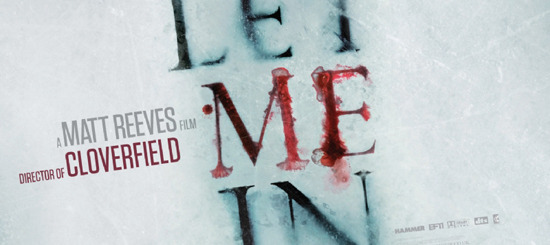 Matt Reeves, the director of Cloverfield, knows that he faces an uphill battle with Let Me In, his remake of the Swedish film Let the Right One In. Or, as it were, his alternate take on the John Ajvide Lindqvist novel of the same name. This new version of the story has been met with a great deal of resistance from fans, as it was announced before the original film had even been able to move from festivals to US movie screens.
So Reeves came to the San Diego Comic Con with his core cast in tow: Kodi Smit-McPhee, Chloe Moretz and Richard Jenkins. (Sadly for me, the Elias Koteas fanboy, those were the only three appearances.) And Reeves brought along two clips that show the differences between this version and the original, and make a really strong case for taking Let Me In seriously. In short: the footage looked great.
The first clip Reeves presented was his version of the 'date' sequence that helps establish the relationship between Owen, a bullied young boy and Abby, a very strange girl who moves in next door. (OK, she's a vampire, but you probably knew that.) The core of this sequence is a tense conversation between the kids, where Owen admits his affection for Abby, and then has to process her response: "Would you still like me if I wasn't a girl?"
The two actors are great in the scene. No wonder Reeves calls this his 'dream cast.' Based on these two clips, the trailers haven't given the best indication of Chloe Moretz's performance as Abby. She's quiet and amazingly adult-looking. Something in her eyes gets across an incredible impression of age and weight. (Reeves said that when Moretz was cast he showed her photographs by Mary Ellen Mark, including one image of a homeless family with a little girl being protective of her younger brother. Some of what's captured in the photo was the basis for a bit of Abby.)
The second clip featured Abby's caretaker (Richard Jenkins) as he attempts to capture a victim for her feeding. Reeves referenced Dial M For Murder when introducing this scene, saying that he attempted to capture the same sense of rooting for the bad guy, even as his plans go wrong, that audiences often experience when watching the attempted murder of Grace Kelly in that film.
So we see Jenkins trying to be stealthy — and in fact being quite extraordinarily creepy — as he picks a victim. I won't spoil the whole scene, but it ends with a rather brilliant depiction of a car wreck. It's nothing like anything in the original film, and leads to the belief that Reeves may have crafted a film that has much more of it's own identity than we'd first thought. The sequence is shot with a great attention to suspense, and there's a quiet feeling to it that makes it terribly unsettling. It was great stuff. Reminded me of The Vanishing, to some extent. (The original.) And that's a very good thing.
Peter, Adam and Devindra recorded a video blog with Dan Trachtenberg from the Totally Rad Show and Andy Sorcini of The Drill Down talking about their reaction to the Let Me In Comic-Con Footage.