The Weinstein Company Plans Nighttime, Off-Site Comic Con Exhibition For Piranha 3D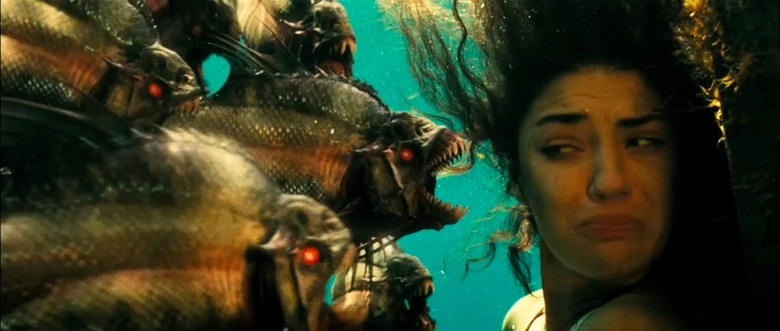 Last week, The Weinstein Company pulled a planned panel for Piranha 3D out of Hall H, because the Comic Con powers that be decided the footage TWC planned to show didn't fit the event's family-friendly guidelines. But man-eating fish aren't to be held back, so there's a new event scheduled to show off the film, which will take place Thursday night away from the convention center.
TWC and director Alexandre Aja originally planned to show off a sequence where a wet T-shirt contest turns into a total massacre as prehistoric fish chomp waterlogged fun-seekers into meat. It's the sequence that has been teased in the trailers and pre-release images, and one that sounds like one of the film's planned showstopper setpieces.
Aja told the New York Times,
It doesn't make sense to go to an event like Comic-Con and not show what the movie is...It's frustrating because I was so excited to show this at Comic-Con – I made the movie for that crowd.
Fans will still get to see the sequence filled with blood and nudity. The Weinstein Company released some info, which goes as follows:
TOO HOT FOR COMIC-CON...You are invited to attend the special San Diego screening of PIRANHA 3D footage – several minutes of never-before-seen footage that is so fantastically bloody and so intense, we couldn't show it on site at Comic-Con!Presented by director Alex Aja; talent Q&A immediately following the footage. Details below:Thursday, July 22nd
10:00PM – 11:00PM
PIRANHA 3D footage screening & cast/filmmaker Q&A panel
Location: Regal Horton Plaza
[via STYD]