Features Announced For Criterion Collection's Fall Lineup, Which Includes The Darjeeling Limited, Paths Of Glory And Hausu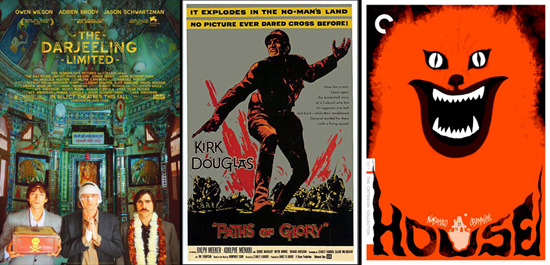 I'm thankful for the Criterion Collection nearly every day, but especially on a slow weekend before Comic Con. This week Criterion finally announced a slate of October releases, which includes a couple of highly anticipated pressings. Finally we'll get Criterion editions of Stanley Kubrick's Paths of Glory and the absolutely insane 1977 Japanese haunted house movie Hausu. And the collection continues its love affair with Ingmar Bergman and Wes Anderson with releases of The Magician and The Darjeeling Limited.
All four films will hit both standard and Blu-ray DVDs, with all being single-disc editions except for the standard DVD of The Darjeeling Limited, which is a double-disc edition. I'm excited for the releases of Paths of Glory and The Magician, but at the time being even moreso by the idea of having a pristine transfer of Nobuhiko Obayashi's utterly insane Hausu with an uncompressed mono soundtrack on the Blu.
Spiritually, Hausu is sort of a companion piece to Suspiria and plays like it must have been a huge influence on the early Evil Dead movies and The Happiness of the Katakuris. (Think of Tim and Eric making Evil Dead 2 and you'll have a vague idea. Or think of a LOLCats horror film.) But there's no real way to describe this thing. It layers sound and image in ways that disregard almost every rule of traditional filmmaking. Check out the trailer below and keep an eye out for the print that Janus Films is sending around the country right now. I got to see it projected last week, and had a great time as the film melted my brain out through my nostrils for 90 minutes.
Meanwhile, there isn't yet cover art for The Darjeeling Limited (nor for Paths of Glory; the art above is old poster art) but a full set of specs for the disc(s) have been released. I'm not a huge fan of this particular Anderson film, but there are some great features here. And the film does look beautiful, so a good Blu transfer will be worth a look. The DVD and Blu-ray editions will feature:
New high-definition digital transfer, supervised and approved by director Wes Anderson (with DTS-HD Master Audio on the Blu-ray edition)
Anderson's short film Hotel Chevalier (part one of The Darjeeling Limited), starring Natalie Portman, with commentary by Anderson
Audio commentary featuring Anderson and cowriters Jason Schwartzman and Roman Coppola
Behind-the-scenes documentary by Barry Braverman
Anderson and filmmaker James Ivory discussing the film's music
Anderson's American Express commercial
On-set footage shot by Coppola and actor Waris Ahluwalia
Audition footage, deleted and alternate scenes, and stills galleries
Original theatrical trailer
PLUS: A booklet featuring an essay by critic Richard Brody and original illustrations by Eric Anderson
You can see the full specs for the other three releases at Criterion's website. Here's the Hausu trailer: