Tron Legacy Banner #7
Walt Disney Pictures bought the billboard located at Santa Monica/Westwood in Los Angeles for an entire year. Beginning in mid-December 2009, the studio has been updating the location with new Tron Legacy advertisements, at the rate of one every month and a half or so. And it was revealed they will keep doing so up until the release of the film in December 2010.
Today the seventh billboard in the series was released on Heyuguys, which you can see in full after the jump. The first series of billboards depicted a light cycle race/battle, but the fifth banner switched to a series of disc game images. The latest in the series features actress Olivia Wilde who plays fearless warrior Quorra in the film. I've also included the first six billboard images below.
Billboard #1: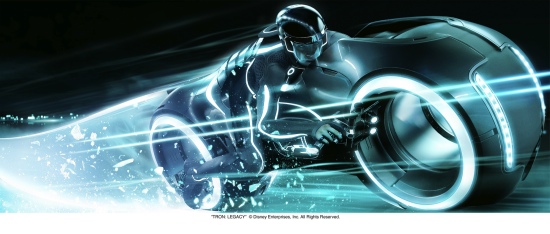 Billboard #2:

Billboard #3: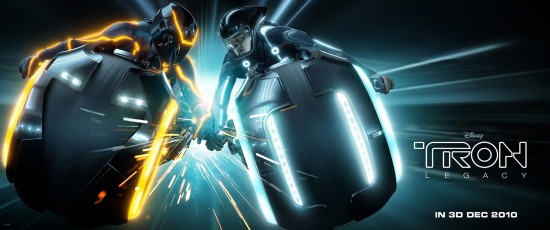 Billboard #4:

Billboard #5:

Billboard #6:
Billboard #7: NEW
Official Plot Synopsis:
Sam Flynn (GARRETT HEDLUND), a rebellious 27-year-old, is haunted by the mysterious disappearance of his father Kevin Flynn (Oscar®- and Golden Globe®-winner JEFF BRIDGES), a man once known as the world's leading video-game developer.  When Sam investigates a strange signal sent from the old Flynn's Arcade—a signal that could only come from his father—he finds himself pulled into a digital world where Kevin has been trapped for 20 years.  With the help of the fearless warrior Quorra (OLIVIA WILDE), father and son embark on a life-or-death journey across a visually-stunning cyber universe—a universe created by Kevin himself that has become far more advanced with never-before-imagined vehicles, weapons, landscapes and a ruthless villain who will stop at nothing to prevent their escape.