French Movie Trailer: Julian Schnabel's 'Miral,' Starring Freida Pinto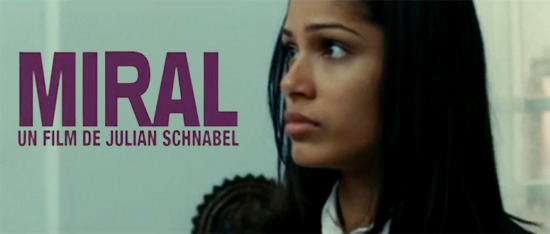 Miral, the new film from Julian Schnabel, was picked up recently by The Weinstein Company, who will release the picture in December. That's far enough out that there isn't a domestic trailer yet available. But a French trailer has arrived, and you can get a very good idea of the film by checking it out.
Schnabel directed from a script by Rula Jebreal, who adapted her own novel about Miral (Freida Pinto), a teen resident of a Jerusalem orphanage run by a Palestinian woman (Hiam Abbass).
I'm very much looking forward to this one, as Schnabel's last film, The Diving Bell and the Butterfly, was one of the most beautiful films of 2007. (That's Schnabel's last dramatic film — around the same time he also documented a performance of Lou Reed's album 'Berlin'.) This trailer makes Miral look a lot more conventional, almost like a political thriller in a certain way. It is certainly a lot more forceful than the meditative Diving Bell.
The Diving Bell and the Butterfly featured an excellent use of the Tom Waits song 'All the World is Green,' and his track 'Green Grass' over the credits. Schnabel's first film, Basquiat, also featured a Waits track, so it's no surprise that he  seems to be going back to the Waits well. This trailer for Miral uses the track 'Down There By the Train' as a closer.
Here's a synopsis of the novel:
Philanthropist Hind Husseini creates a children's shelter in 1948 in response to the destruction wrought by the first Arab-Israeli war. Decades later, Miral comes into Hind's care after her mother kills herself. As Miral witnesses the effects of the Israeli campaigns against the intifada, she draws closer to the political fringes, finally choosing to join the struggle in full. Yet the benevolent influence of Hind and an eye-opening friendship with an Israeli socialist subdues Miral's radicalism and offers some hope for the future. Jebreal is a successful journalist in Italy, and true to form the plot rips along with quick-reading prose, though the characters' simplicity presents a big problem, in that, despite the dire circumstances, it's hard to connect with archetypes.
[via The Playlist]