Nicolas Cage Signs On For Neveldine/Taylor-Directed Ghost Rider Sequel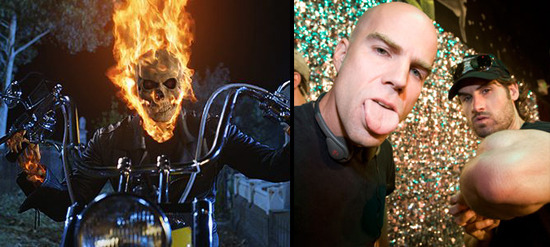 Last month it was reported that Mark Neveldine and Brian Taylor, the mad men behind the two Crank films, were negotiating to make a Ghost Rider sequel, tentatively titled Ghost Rider: The Spirit of Vengeance. At the time we weren't sure that Nicolas Cage would return, and it wasn't a definite that Neveldine/Taylor were chips in. We now know the answer to both questions.
Appearing on The Late, Late Show with Craig Ferguson, Nicolas Cage confirmed that not only have Neveldine and Taylor signed on to direct, but he just signed a deal this week to reprise his role as Johnny Blaze, the stunt cyclist who can turn into a demon of vengeance whose head is a flaming skull.
The script story is by David Goyer, and last we heard Scott Gimple and Seth Hoffman (Flash Forward) had turned in a draft of a script. We assume that Neveldine and Taylor will rewrite the script, as the duo have comic book movie backgrounds and usually are heavily involved in the writing/development of their projects. I'm sure we can also expect the movie to be filmed and distributed in 3D.
via: ComingSoon