Roman Polanski Preps 'God Of Carnage' To Shoot Next Year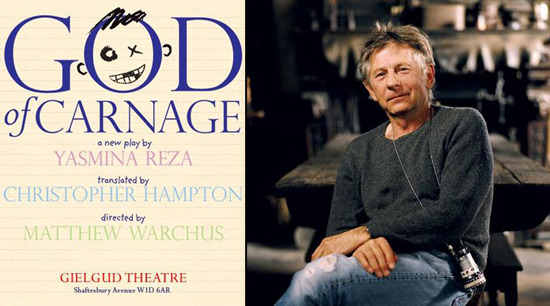 I imagine we'll never again be able to post a Roman Polanski-related story without setting off a comment discussion about whether or not the end of his 2009-2010 arrest represents a strange miscarriage of justice. That's appropriate, but this story isn't about Polanski being set free by the Swiss, but of him going back to work.
While in jail the director optimistically began prepping an adaptation of Yasmina Reza's play God of Carnage, and he now plans to shoot the dark comedy/drama in Europe next year.
The NY Daily News has the info, saying that Polanski, who has been collaborating with Reza on the adaptation, plans to set the action in New York, though he'll (obviously) have to shoot the movie in Europe. Hey, it worked for Kubrick and Eyes Wide Shut. (OK, sort of. Those 'NYC' exteriors are an admirable approximation, but still not right.)
I do quite like the basic idea of the piece:
The play is about two pairs of parents, one of whose child has hurt the other at a public park, who meet to discuss the matter in a civilized manner. However, as the evening goes on, the parents become increasingly childish, resulting in the evening devolving into chaos.
Polanski can do really well with constrained stories like this, and I'm excited to see who he'll cast. (And who'll work with him, though I doubt too many people are going to refuse his call on moral grounds.)
To give you some idea of how the film might be cast, the original West End cast featured Ralph Fiennes, Tamsin Greig, Ken Stott and Janet McTeer, while the slightly Americanized Broadway staging starred Jeff Daniels, Hope Davis, James Gandolfini and Marcia Gay Harden.