First Look And Details: Greg Mottola's 'Paul' With Simon Pegg And Nick Frost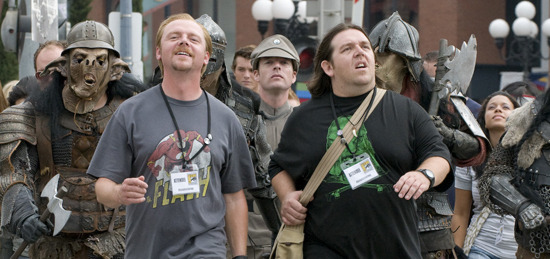 Greg Mottola's follow-up to Adventureland is Paul, which sees a pair of British nerds (played by Simon Pegg and Nick Frost) on a road trip from Comic Con to Roswell, NM. Along the way they find a real alien named Paul, and adventures ensue.
Comic Con only plays into the first bit of the film, but Mottola's crew recreated the show floor to shoot those scenes. Invited along to help recreate a big panel at the con were several webmasters, and their reports from set hit today. Along with those reports come new photos from the film — the first we've seen other than one promo snap glimpsed at Universal — and some new info about the movie.
CHUD, ComingSoon and Collider have reports from the set, and there's new info to glean from the writeups. As we've known, Pegg and Frost wrote the script; they and Mottola have all referenced Steven Spielberg in talking about the tone of the film. As Mottola said while the web guys were on set: "There's a very low-key part of the film that's very conversational and jokey and talky. And then there are these huge set pieces and chases and explosions and craziness and sci-fi fantasy stuff."
Pegg explained that this isn't a repeat of Shaun of the Dead and Hot Fuzz, where he was the dominant character. Here both actors take center stage, and Frost's character may actually more more dominant.
Graham [Pegg's character] is a bit more messy, less proactive. Paul's kind of like Ferris Bueller, you know, he kind of affects everybody around him and never really is affected himself.
Photos of the Comic Con recreation follow, and here's the long official synopsis:
Simon Pegg and Nick Frost (Hot Fuzz, Shaun of the Dead) reunite for the comedy adventure Paul as two sci-fi geeks whose pilgrimage takes them to America's UFO heartland.  While there, they accidentally meet an alien who brings them on an insane road trip that alters their universe forever.
For the past 60 years, an alien named Paul (voiced by Seth Rogen) has been hanging out at a top-secret military base.  For reasons unknown, the space-traveling smart ass decides to escape the compound and hop on the first vehicle out of town—a rented RV containing Earthlings Graeme Willy (Pegg) and Clive Collings (Frost).
Chased by federal agents and the fanatical father of a young woman that they accidentally kidnap, Graeme and Clive hatch a fumbling escape plan to return Paul to his mother ship.  And as two nerds struggle to help, one little green man might just take his fellow outcasts from misfits to intergalactic heroes.
Paul is directed by Superbad's Greg Mottola, from a story by Pegg & Frost.  Joining the comedy's cast are Jason Bateman, Kristen Wiig, Bill Hader, Blythe Danner, Joe Lo Truglio, John Carroll Lynch, David Koechner and Sigourney Weaver.
(And check this image, augmented by Devin Faraci of CHUD, to see which webmasters might be in the film.)