Six More Green Lantern Photos Arrive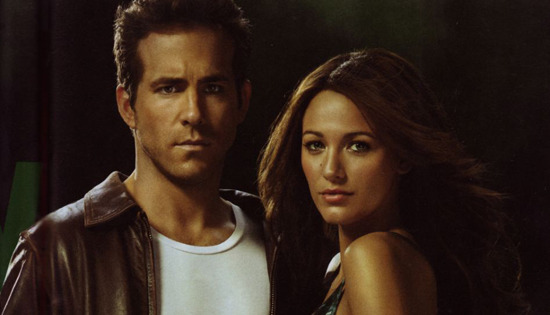 Update: Two more images have been added to this post bringing the total up to six photos. New images include Hector Hammond before his alien encounter and Hector in a bunker with the corpse of alien Abin Sur.
Earlier today we had the first look at Ryan Reynolds in costume as Green Lantern, thanks to the cover of Entertainment Weekly. Now some pics from the mag's coverage have been scanned, and while there isn't another big image of the character in costume, we see Reynolds, Blake Lively, Tim Robbins and Angela Bassett as they'll appear in the film. In addition, one shot has a sideways look at Peter Sarsgaard, which seems to confirm the makeup from spy shots we saw months ago.
Finally, a better scan of the cover reveals more detail about the wonky-looking Green Lantern mask. In this shot at least, the thing is indeed painted on, as many realized when looking at the first image. Let's hope that's just for this photo, because while I can accept that a test pilot might gain possession of a willpower-channeling ring from space, with which he creates and maintains his own costume, the idea that he'd paint on a harlequin mask as an afterthought just seems absurd. (Looking at the close-up, blurring around the mask edges suggests this is a photoshop job.)
Hit the break for the pics. Click the mask close-up to enlarge.
[via iFanboy]