Jennifer Lawrence Cast As Mystique In X-Men: First Class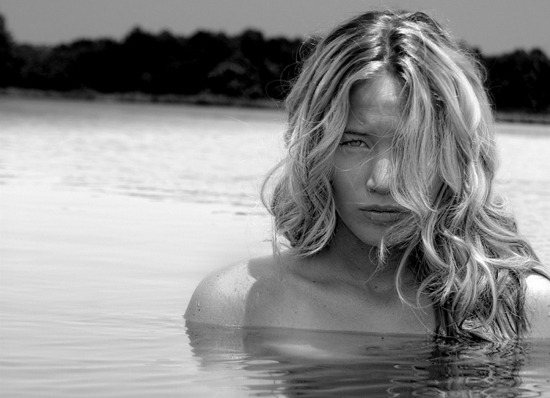 X-Men: First Class has an actress to play Mystique, and a very good one at that: Jennifer Lawrence, who is currently impressing the hell out of everyone who sees Winter's Bone. Amber Heard was previously said to be in talks for the role.THR says Fox has been 'furiously casting' the movie, and in addition to announcing Lawrence, confirms that Nicholas Hoult, Alice Eve, Caleb Landry Jones and Aaron Johnson are all in the cast. The report does not specify their roles, though we know Hoult is Beast and Johnson is reported to be Cyclops.
Lawrence steps into the role that Rebecca Romijn played in the first three X-Men movies. On one hand, I'm thrilled that Lawrence has the gig because, based on Winter's Bone, she is great. If she doesn't nab at least an Oscar nomination for that film, it'll be a crime.
On the other hand, she's young and her identity isn't firmly established, and I'd hate for First Class to set the tone for her career. I want a lot more serious work out of Lawrence, because she's got the chops for it.
But there's no question that she'll be an asset to this film, and this is more proof that Matthew Vaughn is taking his cast seriously.
Here's the cast rundown as it stands now:
James McAvoy is Charles Xavier aka Professor X
Aaron Johnson is Scott Summers, aka Cyclops
Nicholas Hoult has been cast as Dr. Henry Philip "Hank" McCoy aka Beast
Michael Fassbender (Inglourious Basterds, Hunger) is playing Eric Lensherr aka Magneto
Alice Eve, the lead actress from She's Out of My League, was in talks with Fox to play Emma Frost.
Caleb Landry Jones (Friday Night Lights, The Longshots, The Last Exorcism) is Sean Cassidy aka Banshee.
Lucas Till is Havok
Kevin Bacon is in talks to play an unspecified villain.
Here is the official plot synopsis:
X-MEN: FIRST CLASS, following the classic Marvel mythology, charts the epic beginning of the X-Men saga.  Before Charles Xavier and Erik Lensherr took the names Professor X and Magneto, they were two young men discovering their powers for the first time. Before they were archenemies, they were closest of friends, working together, with other Mutants (some familiar, some new), to stop the greatest threat the world has ever known. In the process, a rift between them opened, which began the eternal war between Magneto's Brotherhood and Professor X's X-Men.