Emma Stone And Woody Harrelson Reunite For 'Friends With Benefits'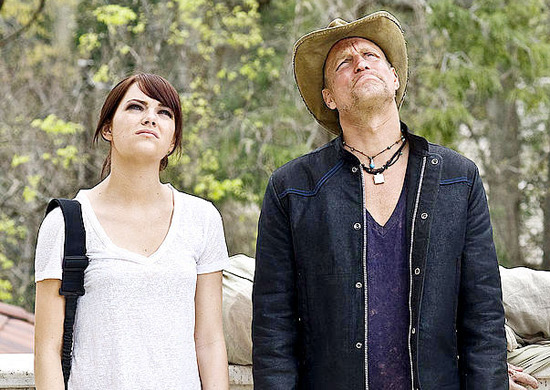 Emma Stone's first collaboration with director Will Gluck, Easy A, hasn't been released yet, but she's already set to work with him once more. Stone and her Zombieland co-star Woody Harrelson will be directed by Gluck in Friends With Benefits, which has already lined up Justin Timberlake to star. The Wrap says that Stone and Harrelson are joining Timberlake and Mila Kunis, and that Patricia Clarkson, Jenna Elfman, Andy Samberg and Richard Jenkins are also coming on board. Quite a cast. Generally, I'd say that Kunis might be the weak spot, but if Forgetting Sarah Marshall and Extract are any indication, she's best off in comedies like this.
As we've reported previously, the film is about "a headhunter [who] recruits a magazine editor and since each is too busy to find a mate, they agree to sleep together with no strings attached. Things get complicated when the guy falls for the girl, who's dating someone else."
Ballplayer Alex Rodriguez is also in negotiations to make his screen debut in the film, but we don't know at this point what role he might have, or if he would play himself. The film will shoot later this month in and around New York, for a 2011 release.
Note that this is not the Ivan Reitman film that is also currently called Friends With Benefits. (Reitman's movie was once called Fuckbuddies, but for obvious reasons that title was changed.)