This Week In DVD & Blu-Ray: Greenberg, Chloe, And More
We may receive a commission on purchases made from links.
This Week in DVD & Blu-ray is a column that compiles all the latest info regarding new DVD and Blu-ray releases, sales, and exclusive deals from stores including Target, Best Buy and Fry's.

GREENBERG
With Noah Baumbach's directorial breakthrough, The Squid and the Whale, he managed to capture a sense of harsh honesty that permeated all of the aggressive dysfunctionality. That honesty was something he lost with his next effort, Margot at the Wedding, which felt more like a coldly calculated, emotionally false hate-filled diatribe. With Greenberg, Baumbach falls somewhere in the middle of his two past efforts. The film's titular character (played by Ben Stiller) is as believable a creation as anyone Baumbach has concocted—though decidedly more unpleasant. Where the film falters is its depiction of the relationship that spawns between Greenberg and his brother's assistant, Florence (played by Greta Gerwig). Gerwig is delightful in the role—charming, cute, a little odd—but the film presents no plausible justification for why Florence would be so drawn to Greenberg, especially after he's been such a repugnant a**hole. There's also the problem of Greenberg himself. Unless viewers share or can relate to his social anxieties and misanthropic worldview, he may be too unlikable for many to handle. The character is a compelling peculiarity, portrayed with a suitably fretful energy by Stiller, but the only way to appreciate the film's examination of this figure is if you actually care about him, and I suspect that many won't.
Available on Blu-ray? Yes.
Notable Extras: DVD & Blu-ray – 3 featurettes ("A Behind-the-Scenes Look at Greenberg", "Greenberg Loves Los Angeles", "Noah Baumbach Takes a Novel Approach").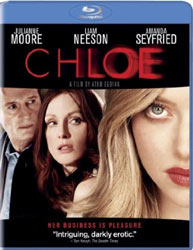 CHLOE
Chloe explores territory rarely touched on in American cinema. It doesn't quite deliver the heightened eroticism one would expect from an "erotic thriller", but then again, it's not really much of a thriller, either. Chloe succeeds best when it's delving into the true nature of sexuality and intimacy in relationships, and the dividing lines that separate them and bring them closer together. It's disappointing then, that instead of satisfyingly paying off on its rich themes, the film takes a contrived, silly turn at the end which derails the entire movie. The movie is still worth seeing—particularly if you're interested in watching Julianne Moore and Amanda Seyfried rubbing their naked bodies together—but it could've been so much more.
Available on Blu-ray? Yes.
Notable Extras: DVD & Blu-ray – Commentary with actress Amanda Seyfried, director Atom Egoyan and writer Erin Cressida Wilson, an Introducing Chloe: The Making of Chloe featurette, and deleted scenes.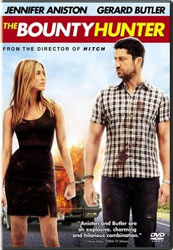 THE BOUNTY HUNTER
Gerard Butler continues his balancing of trifling action flicks with doubly as trifling chick flicks, following up his hunky guy roles in P.S. I Love You and The Ugly Truth with a film that's apparently worse than both. If using Rotten Tomatoes as a barometer, The Bounty Hunter is currently tied for worst movie of the year alongside The Last Airbender. Both are resting comfortably at an impressively low 8%.
Available on Blu-ray? Yes.
Notable Extras: DVD & Blu-ray – 3 featurettes ("Making The Bounty Hunter", "Rules for Outwitting a Bounty Hunter", "Stops Along The Road: Hunting Locations").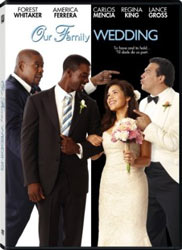 OUR FAMILY WEDDING
This is how Hollywood caters to other ethnicities—not with original and culturally perceptive stories, but with formulaic garbage that falls into one of three categories: ensemble holiday dramedies, ensemble urban comedies, or culture-clash comedies. Our Family Wedding falls into the latter, and as expected, it's crap. You could gather as much from the trailer, but if that doesn't convince you, maybe the 13% on Rotten Tomatoes will. The film even manages to cancel out the talent of Forest Whitaker by pitting him against Carlos Mencia.
Available on Blu-ray? Yes.
Notable Extras: DVD & Blu-ray – Deleted and extended scenes, a "Til Dads Do Us Part" featurette, and a gag reel.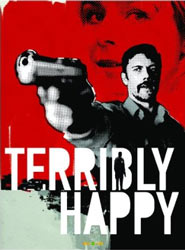 TERRIBLY HAPPY
This Danish noir thriller is currently being remade in English... by the original director. If history has taught us anything though, you're better off catching the film as it is now, since even remakes with the same director at the helm tend to pale in comparison to the original (see: Bangkok Dangerous, The Grudge, The Vanishing, Funny Games). The trailer looks great, and the film is sitting comfortably at 92% on Rotten Tomatoes, where it's being compared heavily to the work of the Coen bros. Consider me sold.
Available on Blu-ray? No.
Notable Extras: Commentary with the director and producer, a behind-the-scenes featurette, and 2 TV interviews with the director and the author of the novel.
Other noteworthy DVD (and Blu-ray) releases this week...
The Greatest [DVD / Blu-ray] – White Collar (Season 1) [DVD / Blu-ray] – Saint John of Las Vegas – Hey Hey It's Esther Blueburger – Psych (Season 4) – The Only Son/There Was a Father (Criterion Collection) – 8: The Mormon Proposition
Noteworthy Blu-ray-specific releases this week...
In Bruges – Insomnia – Alpha Dog – Assault on Precinct 13

NOTES: Some deals may be in-store only. All deals are for DVDs unless otherwise noted.

Exclusive: Free movie ticket. Receive $10 toward admission or $10 concession cash to see Salt, The Other Guys or Eat Pray Love, with purchase of the below $7.99 movies...
$7.99 – Snatch, Monty Python and the Holy Grail, Talladega Nights, The Pursuit of Happyness
$7.99 – The Hangover, Office Space, Terminator Salvation, Hancock, Sunshine Cleaning, Appaloosa, Star Wars: The Clone Wars

$9.99 – Blu-ray sale (comes with DVD): The Graduate, The Usual Suspects, The Terminator, Speed, Robocop, Road House, Rocky, Hoosiers, The Last Waltz, Commando, Hart's War, Dodgeball, Super Troopers, Napoleon Dynamite, Out of Time, Planet of the Apes (2001), and more...