Kathryn Morris Joins Moneyball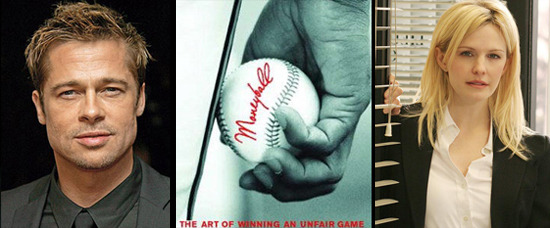 The long saga of Moneyball is about to close — after the film was set to shoot with Steven Soderbergh directing his rewrite of Steve Zaillian's script, Sony shut things down at the last minute. Aaron Sorkin was brought in to rewrite (though some of Zaillian's script is reportedly being used) and Bennett Miller is now about to direct Brad Pitt, Jonah Hill, Robin Wright and Philip Seymour Hoffman in the tale of baseball and statistics.
Now Kathryn Morris from Cold Case is about to join the cast, just as the film is about to go before cameras.
THR says Morris is negotiating a role, which would see her playing the second wife of Oakland A's manager Billy Beane (Pitt). The trade sums up her role with "She loves baseball as much as her husband, so she understands and shares his passion for the game."
Have to imagine that playing a positive role opposite Brad Pitt is pretty damn good route back to movie screens after spending most of the past seven years on TV. (Morris has had a few movie roles during her Cold Case run.) But she probably won't have much screen time in Moneyball, especially compared to her role headlining Cold Case. But, again: appearing in a film like this opposite Brad Pitt, and playing a strong role to boot. Can't really lose.
Moneyball begins to shoot in LA next week, and at the end of the month will bounce up to Oakland to spend some time shooting in the Oakland Coliseum. The crew will set up on July 25 and shoot from July 26-Aug 6, according to the Mercury News.
A's exec David Rinetti says,
They're going to be filming basically the baseball scenes...They're going to be doing daylight scenes and night-game scenes. A lot of it will be overnight and into the wee hours of the morning.
No surprise about that, but it's good to know the film is finally going to be shot after all the backstage wrangling.