New Photos: Emma Roberts, Aasif Mandvi And Jeremy Davies In It's Kind Of A Funny Story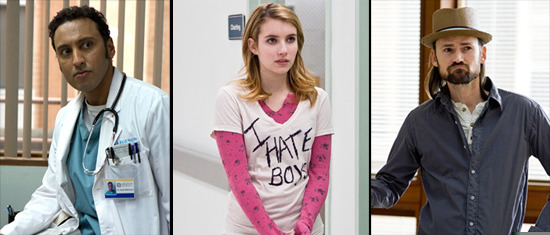 Some first look images are interesting because they finally reveal how an actor might look in a long-awaited role. Others are great simply because they remind us that a worthy film is in motion. These new images showing Emma Roberts, Aasif Mandvi and Jeremy Davies in It's Kind of a Funny Story are in the latter camp. They join the first look we had at Zach Galifianakis last week, and remind me that this is a film worth looking out for.
It's Kind of a Funny Story is the return of Half Nelson writer/directors Anna Boden & Ryan Fleck, and was shot late last year. There's no trailer yet (soon, I hope) but MTV snagged these pics. Also in the cast are Keir Gilchirst, Viola Davis, Zoe Kravitz, Lauren Graham and Jim Gaffigan. MTV has photos of most of the cast in character. From the 'start of production' press release:
The comedy-drama has been adapted from Ned Vizzini's 2006 novel of the same name; "16-year-old Craig (Gilchrist), stressed out from the demands of being a teenager, checks himself into a mental health clinic. There he learns that the youth ward is closed – and finds himself stuck in the adult ward. One of the patients, Bobby (Galifianakis), soon becomes both Craig's mentor and protégé. Craig is also quickly drawn to another 16-year-old, Noelle (Emma Roberts). With a minimum five days' stay imposed on him, Craig is sustained by friendships on both the inside and the outside as he learns more about life, love, and the pressures of growing up. Academy Award nominee Viola Davis (Doubt) plays Dr. Minerva, the adult ward's staff psychiatrist; Zoe Kravitz (The Brave One) portrays Nia, Craig's longtime crush; Aasif Mandvi (The Proposal) is cast as Dr. Mahmoud, a hospital psychiatrist; and Lauren Graham  (Parenthood) and Jim Gaffigan (of Focus' Away We Go) play Craig's parents, Lynn and George.