J.J. Abrams, James Mangold, Ryan Murphy And Rob Marshall In Talks For Wicked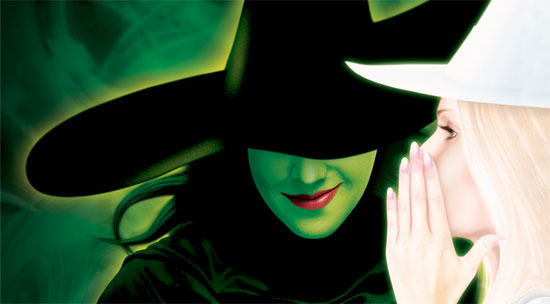 Prepare yourselves now, because the profusion of Wizard of Oz projects hitting in the next few years may start to get a little overwhelming. In no particular order, we already have lined up: Oz, the Great and Powerful, starring Robert Downey Jr. and (potentially) directed by Sam Raimi; Drew Barrymore's proposed Wizard of Oz sequel, Surrender Dorothy; the Polish brothers' Oz prequel; Dorthy of Oz, an animated outing; and one of two Warner Bros. remakes, which could either be the Todd McFarlane-produced re-envisioning or the simply titled Oz, written by Darren Lemke (co-writer of Bryan Singer's upcoming Jack the Giant Killer).
That enough Oz mayhem for you? Or do you think we need one more?
Yup, Universal thinks we need one more. To fill out that already full roster, there's the upcoming musical adaptation Wicked, a prequel to the classic Wizard of Oz tale that's told from the perspective of the witches. This will mark the title's third incarnation, which started as a bestselling novel before finding great success as a stage musical. Which director will be bringing the material to the big screen? The current line-up is enough to titillate: J.J. Abrams, James Mangold, Ryan Murphy and Rob Marshall. More on these selections after the break.
Deadline reports that a number of meetings have already taken place with the musical's producer (Marc Platt), writer (Winnie Holzman), and songwriter (Stephen Schwartz), and the aforementioned filmmakers were among those being met with and taken into consideration. The extent of the directors' interest is unclear.
Out of the proposed directors, Rob Marshall and Ryan Murphy are the obvious choices. Marshall (director of Chicago and Nine) has the most experience with adapting stage musicals, and Ryan Murphy (creator of Glee) has had the past year to hone his musical abilities with dozens upon dozens of vibrant song-and-dance numbers.
James Mangold is a slightly more curious possibility, as he's never directed a musical before, though he wasn't too far off with the music-driven Walk the Line. He's also an incredibly eclectic filmmaker, shifting genres more frequently than almost any director out there (e.g., he went from Kate & Leopold to Identity), so I could definitely see him stretching himself even further with a project like this.
Naturally, the stand-out of the group is J.J. Abrams. As somebody who's known mostly for his work in the sci-fi and spy genres, Abrams likely wouldn't be the first person you'd think of to tackle a stage musical adaptation. He is, however, a master of mystery and spectacle, and directing that energy toward the world of Oz could prove very promising. And it's not as though Abrams has no musical sense. He was the composer of the main title themes for several of his shows, including Fringe, Alias, Felicity and even the opening of Lost. Check those out below.
Fringe theme:Alias theme:Felicity theme: