Atom Egoyan And Guy Maddin Making Short Films For Opening Of New Toronto Film Fest HQ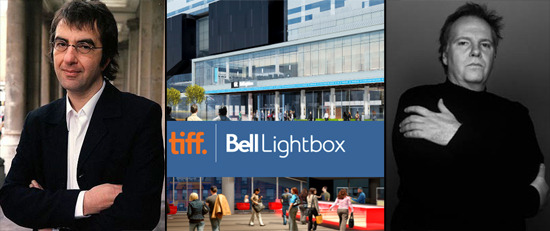 For the past few years the Bell Lightbox has been under construction just on the north edge of downtown Toronto. The center is meant to be the new headquarters of the Toronto International Film Festival, and it finally opens this year, on September 12.
In addition to the annual festival, which opens September 9, the center will open with a free exhibit called Essential Cinema, which will be complemented by a collection of new short films. Among the directors involved are festival favorites Atom Egoyan and Guy Maddin.
A report from the CBC breaks down the commissioned short films:
Hauntings 1 and II, by Guy Maddin, a series of shorts that recreates fragments of lost or unrealized film masterpieces.
8½ Screens, by Atom Egoyan, a work centred around a key scene in Federico Fellini's masterpiece 8½.
E-100, by James Andean and François Xavier Saint-Pierre, a sound installation that combines dialogue culled from the films in the Essential 100 list and other sound effects.
Essential Titles, by Barr Gilmore, a five-minute looped motion graphic projection based on opening credits from the Essential 100 titles.
I'm intrigued by all of these, but particularly by the Maddin — his work already feels like it is recreating lost fragments of film, so applying that approach directly to legendary unrealized films sounds perfect. It also sounds like a great companion piece to The Pervert's Guide to Cinema, in which Slavoj Zizek recreates classic cinema scenes to investigate their intent and impact.
You might be intrigued to read the list of 100 Essential Films that was compiled for the exhibition, and you can check that out here. Should make for some great arguments, especially compared against the famous / infamous AFI 100. (Note that the AFI list was of American films, and TIFF's list is international.)
Finally, according to TIFF's press release, the exhibit will also feature,
A large "wunderkammer" ("cabinet of curiosities" room) featuring the objects, costumes, photographs, sound clips, music and other items that make the films in the Essential 100 list iconic.
Among the items that will be on display are original storyboards from Gone With the Wind and Vertigo, as well as the cabbie's license earned by Robert De Niro when he was doing research for Taxi Driver.