Exclusive: Two High-Res, Grindhouse-Flavored Images From Machete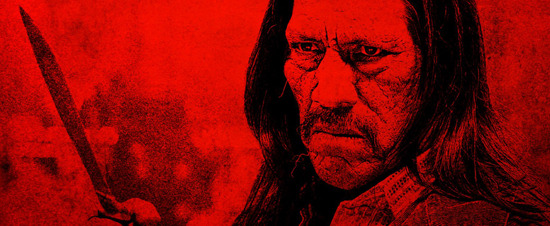 With the Robert Rodriguez-produced Predators about to hit theaters with a new trailer for his upcoming Machete attached, Fox is going all out with a batch of new images from the film.
Check out our two exclusive images after the break.
Machete, co-directed by Rodriguez and Ethan Maniquis,  expands upon the fake trailer created for Grindhouse, and stars quite a group of actors: Danny Trejo, Jessica Alba, Robert De Niro, Michelle Rodriguez, Lindsay Lohan, Cheech Marin, Jeff Fahey, Don Johnson and Steven Seagal.
While a bunch of sites (including CHUD, Latino Review, Coming Soon, Rope of Silicon, FirstShowing and MovieWeb) all got images, ours are naturally the best. Why? Because they show Danny Trejo and Michelle Rodriguez in bad-ass color-stained grindhouse-y glory. It's like they're from the Dario Argento remix of the movie. (Yeah, OK, they're stills from the 'illegal' Cinco de Mayo trailer, but they're still purty.)
Click 'em for high-res versions. Machete opens on September 3.
The feature version of the trailer finds Machete (Trejo) a renegade former Mexican Federale, roaming the streets of Texas after a shakedown from drug lord Torrez (Steven Seagal). Reluctantly, Machete takes an offer from spin doctor Benz (Fahey) to assassinate McLaughlin (Robert De Niro) a corrupt Senator. Double crossed and on the run Machete braves the odds with the help of Luz (Michelle Rodriguez), a saucy taco slinger, Padre (Cheech Marin) his "holy" brother, and April (Lindsay Lohan) a socialite with a penchant for guns. All while being tracked by Sartana (Jessica Alba), a sexy ICE agent with a special interest in the blade slinger.