Ridley Scott And Leonardo DiCaprio Could Re-Team For 'The Wolf Of Wall Street'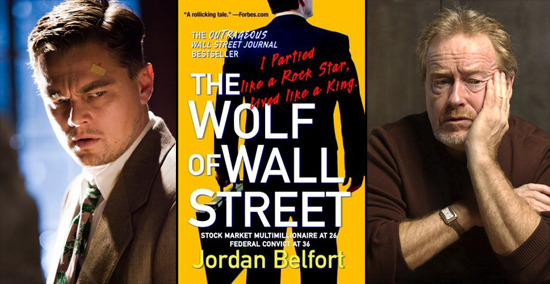 So are films about financial disaster and malfeasance going to be the new thing for a few months? We've got Oliver Stone's sequel to Wall Street hitting soon, and the cast for Margin Call either means that it's a good piece of work or that it's just the best gig going in New York right now. That's to say nothing of the many documentaries that are covering the action and aftermath of the recent financial crisis.
So I'm not surprised to see that plans are being revived to make The Wolf of Wall Street, a film that once resided on Martin Scorsese's slate with Leonardo DiCaprio attached to star. DiCaprio is still a part of the package, but now Ridley Scott may direct.
Deadline says that, despite the fact that Scott has a couple of Alien prequel films to shoot soon, he's in discussions to direct with Scorsese and Appian Way (DiCaprio's company) producing, with Scott Free probably producing as well. DiCaprio also has a commitment to make the J. Edgar Hoover biopic Hoover with Clint Eastwood, so there's not a lot of time to make this happen.
But it's topical stuff, and there are really good reports about Terence Winter's script, which adapts the autobiography by Jordan Belfort. (The script hit the Black List in 2007, before the film stalled out while Scorsese was trying to make it — he and DiCaprio made Shutter Island instead.)
Reading the following Publisher's Weekly description, it's easy to see the attraction to the material. But can Scott and DiCaprio squeeze it in between other projects, or is this destined to stall out again?
Belfort, who founded one of the first and largest chop shop brokerage firms in 1987, was banned from the securities business for life by 1994, and later went to jail for fraud and money-laundering, delivers a memoir that reads like fiction. It covers his decade of success with straightforward accounts of how he worked with managers of obscure companies to acquire large amounts of stock with minimal public disclosure, then pumped up the price and sold it, so he and the insiders made large profits while public investors usually lost. Profits were laundered through purchase of legitimate businesses and cash deposits in Swiss banks. There is only brief mention of Belfort's life before Wall Street or events since 1997. The book's main topic is the vast amount of sex, drugs and risky physical behavior Belfort managed to survive. As might be expected in the autobiography of a veteran con man with movie rights already sold, it's hard to know how much to believe.