Movie Trailer: Operation: Endgame, Action Comedy Featuring Zach Galifianakis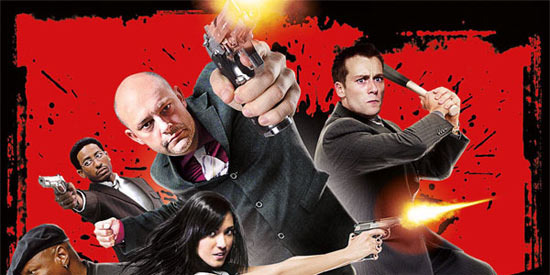 Zach Galifianakis. Rob Corddry. Adam Scott. Bob Odenkirk. Jeffrey Tambor. Maggie Q. Ving Rhames.
If at least one of those names hasn't yet piqued your interest, you might want to check if you have a pulse. This is the cast of Operation: Endgame, an action-comedy that sees two teams of government spies pitted against one another. If it seems like the film has come out of nowhere, that's because it has. The movie was originally being developed under the title Rogue's Gallery, but now it's finding itself unceremoniously dumped to DVD and Blu-ray after playing in only a couple of theaters. Find the red band trailer and green band trailer after the break.
Red Band Movie Trailer:
Green Band Movie Trailer (via: The Wrap)
Predicting why a movie had been shafted out of a theatrical release used to be easy. Before even asking the question, one could easily ascertain the reasoning with a quick dismissal: "Because it's crap." Times have changed though, and with the economy being in as bad of shape as it is, some of the best films of the past couple years have regrettably found their way to the bottom of the rental store shelf. Two stand-outs come to mind: Triangle and Trick 'r Treat. Will Operation: Endgame be deserving of the same praise as these titles? Probably not, but it certainly looks a step above most direct-to-DVD efforts. I wouldn't write it off just yet.
Watching the trailer though, I can understand why the film wasn't granted a wider release. Even if there's nothing off-putting about the footage, there also isn't too much in the way of stand-out gags or action beats—certainly nothing to bank a movie on. But seeing as how Anchor Bay, the film's distributor, is a subsidiary of Starz Media—which caused a rift recently with the heads of Overture, who apparently weren't too thrilled about the way Starz was handling their films—it's just as possible that the movie is an unfortunate casualty of a film company in financial disarray.
The main appeal of the film is without a doubt the cast. Actors like Adam Scott (Party Down, Step Brothers) and Jeffrey Tambor (Arrested Development) obviously aren't selling points to mainstream audiences—and in turn, the studio—but they definitely have some much deserved fan cred, and for me personally, are incentive enough to want to give this little flick a chance. On top of those already mentioned, the film also stars Emilie de Ravin (Lost), Joe Anderson (The Crazies), Ellen Barkin (Ocean's Thirteen), Odette Yustman (Cloverfield), and Brandon T. Jackson (Tropic Thunder). Yeah, the cast is kind of insane.
Operation: Endgame hits DVD and Blu-ray on July 27. Check out the cover below.