This Week In DVD & Blu-Ray: A Single Man, Brooklyn's Finest, The Girl With The Dragon Tattoo
We may receive a commission on purchases made from links.
This Week in DVD & Blu-ray is a column that compiles all the latest info regarding new DVD and Blu-ray releases, sales, and exclusive deals from stores including Target, Best Buy and Fry's.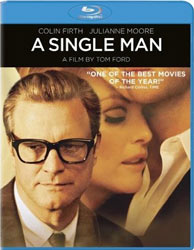 A SINGLE MAN
A Single Man drowns its audience in beauty. It unapologetically flaunts its gorgeous, dreamy cinematography; it captivates the senses with its hypnotizing piano-and-violin-infused classical score; it highlights the statuesque male form with lustful enthusiasm; and so on. It does all this without restraint, so indulgent in its aesthetic appeal that the technical achievements of the film almost overwhelm the story inside—but not quite. If the film's stylistic flair occasionally overshadows the happenings of the story, Colin Firth's performance—playing a grieving widow who tries to get through one last day before committing suicide—provides a sturdy enough emotional base to keep the proceedings in check. Firth conveys so much with so little, and watching him quietly suffer through his heartbreak is agonizing. What the film may lack in subtlety, it makes up for with the raw power of Firth's emotive abilities. He is a force to be reckoned with.
Available on Blu-ray? Yes.
Notable Extras: DVD & Blu-ray – A commentary with producer/director Tom Ford, and a Making of A Single Man featurette.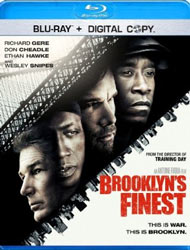 BROOKLYN'S FINEST
Brooklyn's Finest is flawed on a fundamental level, and that's the sole reason it fails to register in the way that it should. The film follows three cops, all of whom appear to be representative of their own respective cop movie cliché. There's the burnt-out cop who's a week from retirement, the morally-conflicted cop who turns to corruption, and the undercover cop whose loyalties become tested. Why anybody thought it would be a good idea to take these caricatures and use them as the basis for a multi-story character drama remains a mystery to me. As effective as director Antoine Fuqua is at developing an escalating intensity throughout the film, and as capable the strong cast is at maintaining that intensity, their efforts are unable to overcome the hokiness of the script. The more dramatic the film becomes, the harder it is to take it seriously. Still, as far as overwrought melodrama goes, Brooklyn's Finest is a pretty consistently engaging crime drama/thriller.
Available on Blu-ray? Yes.
Notable Extras: DVD & Blu-ray – Audio commentary with director Antoine Fuqua, featurettes ("Chaos and Conflict: The Life of a New York Cop", "Boyz 'N the Real Hood", "An Eye for Detail: Director Featurette"), and deleted scenes.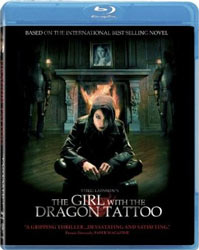 THE GIRL WITH THE DRAGON TATTOO
Appropriate given the title, the primary incentive to check out The Girl with the Dragon Tattoo is its titular female protagonist—a hard-edged goth computer hacker who has no trouble taking matters into her own hands. I can't recall a single other film in the past five years that's had such a strong woman presence, and for that alone this film is a worthy contribution to the cinema landscape. But in regards to the murder mystery around which the story is built, the film doesn't have much to add to it. There are some revelatory ending details that present a twisted and intriguing spin on things, but prior to that point, the mystery elements and the ways in which they're unraveled feel fairly rote. The movie is really tattoo girl's show all the way, with an early subplot involving her and a skeezy lawyer—which, while thematically relevant, doesn't pertain to the mystery plotline—generating all of the interest in the first hour of the film's lengthy two-and-a-half-hour runtime. It really isn't until the girl becomes an essential part of the investigation (about halfway through) that the story finally starts to take hold.
Available on Blu-ray? Yes.
Notable Extras: DVD & Blu-ray – Interviews with director Niels Arden Oplev and star Noomi Rapace, and a featurette (The Vanger Family Tree).
Other noteworthy DVD (and Blu-ray) releases this week...
Steamboat Bill, Jr. [Ultimate 2-Disc DVD / Blu-ray]
Noteworthy Blu-ray-specific releases this week...

NOTES: Some deals may be in-store only. All deals are for DVDs unless otherwise noted.

$14.99 – Blu-ray sale: Watchmen (Director's Cut), Kingdom of Heaven (Director's Cut), Big Trouble in Little China, The Princess Bride, The Boondock Saints, and more...

Exclusive: Get a free movie ticket to see Despicable Me with purchase of one of the following $14.99 Blu-rays...
$14.99 – Blu-ray sale: Coraline, The Incredible Hulk, Land of the Lost, The Tale of Despereaux
$9.99 – Blu-ray sale: Dark City, The Dirty Dozen, The Express, Paris Je T'aime
$14.99 – Blu-ray sale: Heat, Across the Universe, The Protector, Pride and Prejudice

$7.99 – Blu-ray sale: Courage Under Fire, Major League, The Manchurian Candidate, Transporter 2, Give Em Hell Malone
$9.99 – Blu-ray sale: Jarhead, Rambo II, Rambo III, The Omega Man, Bruce Almighty, The Grudge, We Were Soldiers
$14.99 – Blu-ray sale: Clerks, Pandorum, The Godfather: Part II, Night at the Museum