Offers Out To Brad Pitt And Shia LaBeouf For 'Riptide,' Scripted By Peter Morgan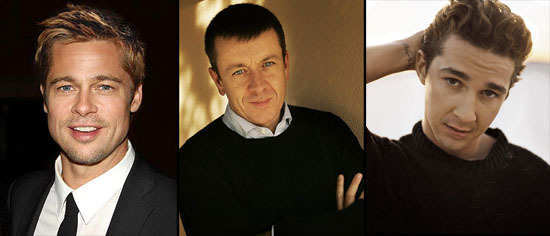 Quick one here, but Summit, in the not-so-long stretch before Twilight expires in the rosy two-fisted film fan-gasm that (might) be Breaking Dawn, is coming up with new projects. One is said to be Riptide, a sort of closed door mystery that takes place on a ship called the Nautica. Three people are involved or, as it were, victimized: "a handyman, a young stock broker, and the stock broker's girlfriend. One of the men is found dead floating in the sea. The girlfriend is found at a nearby hotel. An investigator is called in to figure out what happened and why."
That's from Pajiba, and the site says that the interesting part isn't that Peter "Frost/Nixon" Morgan has rewritten Richard McBrien's script, but that offers are out to Brad Pitt and Shia LaBeouf for the lead male roles. Are they going to bite? Quite possibly not. That's the dodgy part about 'an offer is out to...' stories.
But Summit is aiming high, and needs to. Twilight will be over very soon, and while there's money to be made milking the after-market Blu-ray angle, other Summit films like Fair Game and (let's face it, no matter how fun I think it looks) Red aren't going to bank huge. And with Mel Gibson's outburst last week the studio could well have to just write down the Jodie Foster-directed, Gibson-starring The Beaver.
(Seriously, how do you market a film starring a guy reportedly caught on tape saying...that? If you know how to do it, I'm sure Summit would be keen to listen.)
Summit could really use another sure-fire hit, and a good meaty audience-involving mystery with a big star like Brad Pitt would make everyone happy. Peter Morgan is a prestige name, so it could even happen. Until then I'll just watch Triangle again, but as satisfying as that is, it hardly has star power. Not sure Shia is really the right direction to take this, but split the difference. Pull Pitt and then go straight to Sony's discarded Spider-Man shortlist for the other male role.