Movie Trailer: A New Look At Studio Ghibli's 'The Borrower Arrietty'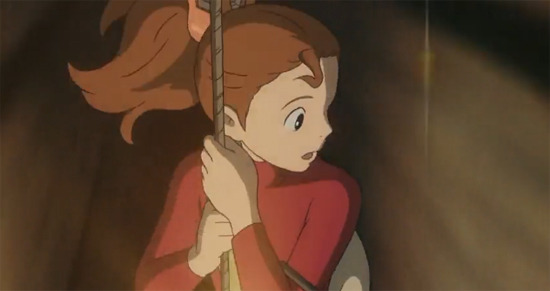 Studio Ghibli, the wonderful animation studio that has produced many wonders directed by Hayao Miyazaki, is close to releasing a new film version of Mary Norton's fantasy novel The Borrowers.
We've seen two brief teasers for the film, The Borrower Arrietty, and now there's a third. The quality here is far better than the previous two clips, and while the text and narration is entirely in Japanese, the animation looks lovely.
Hayao Miyazaki wrote the script for the film based on Norton's novel. Directing is 36-year old Hiromasa Yonebayashi, who served as a key animator on Miyazaki's classics Princess Mononoke, Howl's Moving Castle and Spirited Away. He's the youngest feature director in Studio Ghibli history. Miyazaki has long wanted to adapt the novel, and is overseeing the production.
The basic plot description goes like this:
14-year-old Arrietty and the rest of the Clock family live in peaceful anonymity as they make their own home from items "borrowed" from the house's human inhabitants. However, life changes for the Clocks when a human boy discovers Arrietty.
Previous clips have shown primarily exteriors. The last teaser trailer showed Arrietty gathering goods from outside the human home, and the moment where she is spied by the young boy. This teaser is set primarily within the walls of the house, in which the Clocks have crafted their home. The design looks like vintage Ghibli: warm, lived-in, cluttered but beautiful, with a softly impressive color sense.
Thankfully the quality of this clip is high enough that you can really see how detailed the environments will be, and that the figure animation is as clean and natural as any film directed by Miyazaki.
[via AICN]