New Photo: Jason Momoa As Conan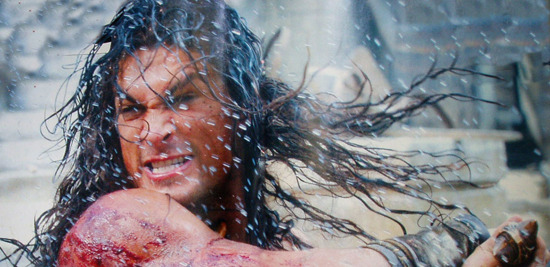 Briefly: Well, this is more like it. I'm sure there will still be a flurry of comments that this photo of Jason Momoa in action as Conan the Barbarian looks too skinny. But I see this and just get a sense of power and fury — looks like a reasonable vision of Conan to me. It's certainly the best thing I've seen from the production so far.
'The production,' of course, is the Marcus Nispel-directed Conan, starring Momoa, Stephen Lang, Ron Perlman, Leo Howard and Rachel Nichols. The image was either scanned or photographed from a Spanish magazine, which is why it looks a little odd.
See the image in full after the break. And, just in case you didn't see it earlier this week, after the image I re-present the very entertaining Conan the Barbarian: The Musical.
[via ConanMovieBlog]