Movie Trailer: Charlie St. Cloud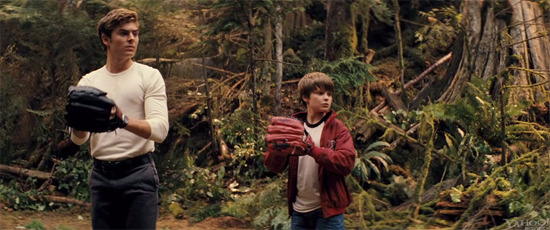 How serious can Zac Efron be? That's mostly a rhetorical question because, his High School Musical past notwithstanding, the guy indicated in Me and Orson Welles that he might actually be able to bring it. But Charlie St. Cloud might be the real test. This is the movie where Efron's character has to choose between the hot girl and life of a sailor on one hand, and literally spending time with the ghost of his dead brother on the other.
Actually, I don't know why I wasted all this time saying anything other than "this movie looks like a Nicholas Sparks version of The Lovely Bones." There, how does that make you feel? Tingly, I know.
Charlie St. Cloud, directed by Burr Steers from a script that has been written, in various drafts, by Craig Pearce, James Schamus, Lewis Colick and Steers, is based on the novel The Death and Life of Charlie St. Cloud, by Ben Sherwood.Zac Efron, Amanda Crew, Charlie Tahan, Kim Basinger, Ray Liotta, Augustus Prew and Donal Logue appear.
Synopsizin':
Accomplished sailor Charlie St. Cloud has the adoration of his mother Claire and his little brother Sam, as well as a college scholarship that will lead him far from his sleepy Pacific Northwest hometown. But his bright future is cut short when a tragedy strikes and takes his dreams with it. After his high-school classmate Tess returns home unexpectedly, Charlie grows torn between honoring a promise he made four years earlier and moving forward with newfound love. And as he finds the courage to let go of the past for good, Charlie discovers the soul most worth saving is his own.
Hit Yahoo for the HD trailer, should you be so inclined.