International Movie Trailer: Let Me In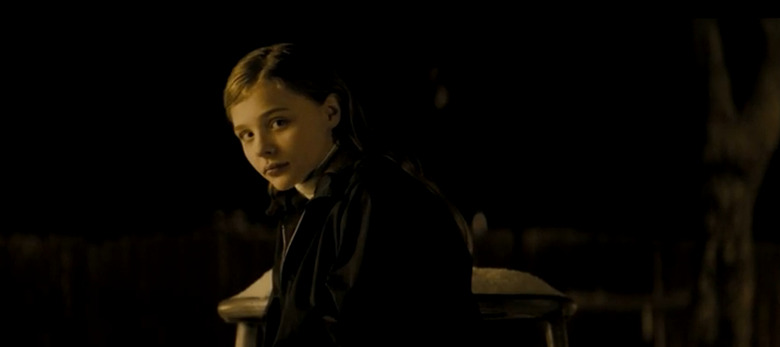 Ever since Matt Reeves' Let Me In (a remake of Let the Right One In) was first announced, I've been simultaneously excited and fearful about the anticipated results. My hope was that an American remake could help bring attention to Tomas Alfredson's Swedish original. But that film was so understated and sublime, I didn't know if Reeves would trample all over it.
Now the international trailer for has hit the web and it looks...surprisingly faithful? Hit the jump to check it out and leave your thoughts in the comments.
Alright, so the music, which sounds like it came out of a crappy horror movie trailer, kind of makes me want to destroy something beautiful. But aside from that, the visuals feel very similar to those of the original, and I think that's a good thing. The boy, this time played by Kodi Smit-McPhee (last seen in The Road), looks like he'll bring a great sense sense of innocence and vulnerability to the film. And, of course, if her performance works, then Chloe Moretz is well on her way towards becoming a full-blown child star in my book.
Still, I can't help but wonder if they will maintain the film's pacing, or keep some of the more subtle relationship elements of the original film. In any case, it'll be fascinating to watch the film and see the results of an "American" spin on the original concept. What do you guys think of it?
Here's the official plot synopsis:
Let Me In, tells a terrifying tale about an alienated 12-year old boy named Owen (Kodi Smit-McPhee) who is viciously bullied by his classmates and neglected by his divorcing parents. Achingly lonely, Owen spends his days plotting revenge on his middle school tormentors and his evenings spying on the other inhabitants of his apartment complex. His only friend is his new neighbor Abby (Chloe Moretz), an eerily self-possessed young girl who lives next door with her silent father (Oscar® nominee Richard Jenkins). A frail, troubled child about Owens's age, Abby emerges from her heavily curtained apartment only at night and always barefoot, seemingly immune to the bitter winter elements. Recognizing a fellow outcast, Owen opens up to her and before long, the two have formed a unique bond.