Warner Bros. Developing 'Tales From The Gangster Squad'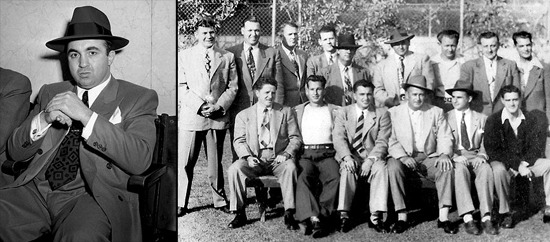 So, reportedly the Mafia Wars rumor that cropped up yesterday isn't true, so we can breathe a sigh of relief that we may never see a film based on that particular bit of gangster fiction. But there are a million stories in the naked city, and Warner Bros. is said to be pulling a few of them together for Tales from the Gangster Squad, which would be "an action movie conceived as an ensemble piece for a group of top-level actors."
That quote comes from the LA Times, which says the film is based on a 2008 series of articles from, er, The LA Times. Paul Lieberman wrote the stories, which tracked an LAPD unit established in the '40s to deal with an insurgence of Mafia figures from the east coast. In other words, essentially some of the same ideas that James Ellroy fictionalized over the years.
Will Beall wrote the first draft of the script for The Departed producers Dan Lin and Kevin McCormick. Beall is a former cop and author of the novel L.A. Rex, which he's also adapting to script form for producer Scott Rudin, and he may write Xombi for DreamWorks.
At this point there aren't actually any 'top-level actors' set up to star, nor is there a director. And given that this is an original story, we shouldn't expect WB to budget this along the lines of some other massive films, so it'll have to draw top talent partially on the strength of the material. There's good stuff in the LA crime tales — always the potential for another film like LA Confidential — but we'll have to see what Beall has done with the script.
(Photo from the LA Times series on the Gangster Sqaud. The Squad is pictured on the right; on the left is LA gangster Mickey Cohen.)