Is Die Antwoord's Yo-Landi Vi$$er David Fincher's Vision For Lisbeth Salander In The Girl With The Dragon Tattoo?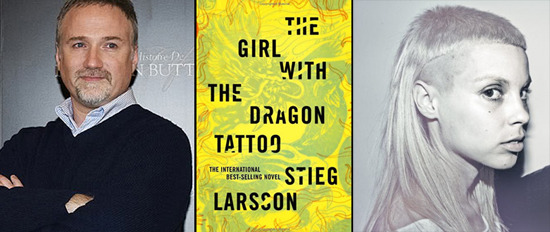 David Fincher is developing his adaptation of the Stieg Larsson novel The Girl With the Dragon Tattoo, and has been talking to Daniel Craig for the lead male role. That's spot-on casting, but there's another big puzzle piece: Fincher still has to find an actress to play the data-gathering expert Lisbeth Salander. He's reportedly looking toward unknowns, and name actresses like Carey Mulligan have expressed great interest in the part.
Now we're told that Fincher has a model in mind for Salander — singer/ rapper / performance artist Yo-Landi Vi$$er, from the South African group Die Antwoord.
Assuming that Vi$$er is as much on Fincher's mind as Vulture says, the question is: does he actually want to cast the rapper, who has no demonstrated acting experience outside the context of the band's videos, or is she merely representative of what he thinks Salander should look and act like?
I can see why the director might consider Vi$$er at least a visual ideal for the part — she's got a memorably strange look, but despite her diminutive size, the rapper looks wiry and almost tough. She's a contrast to Noomi Rapace, who made a mark playing the part in the Swedish film version of the book, but not a total break from the character as Larsson described her. (And Die Antwoord is attracting other major filmmaking talent — Neill Blomkamp is reportedly working with the group.)
I'm quite curious to read the Steve Zaillian script from which Fincher will work. The original title of Larsson's novel translates to 'men who hate women,' and the Swedish film version isn't at all shy about putting the Salander character through hell. If Fincher is just as explicit this will be a demanding and revealing role. Obviously that's why quite a number of established actresses are interested — it's a meaty, high-profile part, the sort of thing that really doesn't come around that often.