This Week In DVD & Blu-Ray: Hot Tub Time Machine, The Crazies, The White Ribbon, And More
We may receive a commission on purchases made from links.
This Week in DVD & Blu-ray is a column that compiles all the latest info regarding new DVD and Blu-ray releases, sales, and exclusive deals from stores including Target, Best Buy and Fry's.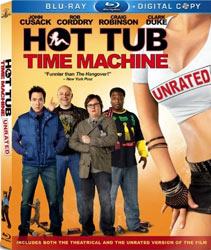 HOT TUB TIME MACHINE
Hot Tub Time Machine is so aware of how absurd its storyline is that it doesn't even attempt to justify it. In place of extensive exposition explaining the logistics of time travel and what it means for them, the characters cover all bases through Terminator references and extensive cocaine usage. The downside to making this sort of deliberately silly comedy is that the audience never has a chance to invest in the growth of the characters or care about what's at stake, but sometimes, being funny is enough. And aside from a cute little romance, that's the only area in which Hot Tub Time Machine hopes to succeed—and does. While the film adheres to the utmost basics of story structure and formula, it never does so at the expense of a quick gag, and is mostly an excuse to engage its immensely likable cast in a series of outrageous situations highlighting one of two things (and frequently both): time travel, and the '80s. Oh, and drugs, too.
Available on Blu-ray? Yes.
Notable Extras: DVD – Deleted scenes. Blu-ray – Includes everything on the DVD, as well as Theatrical Promotional Spots ("Production: Acting Like Idiots", "Chevy Chase: The Nicest Guy in Hollywood", "Totally Radical Outfits: Dayna Pink", "Crispin Glover: One Armed Bellhop"), and a digital copy of the film.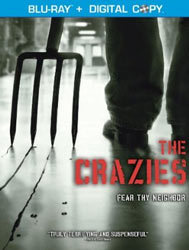 THE CRAZIES
There's nothing original or particularly inventive about The Crazies. In fact, it's so mired in clichés that it should probably be unwatchable. But even clichés can be enjoyable to watch if done well, and The Crazies is proof of that. It's an effectively-made, serious-minded horror/thriller that speeds along at such a quick pace that downtime is practically nonexistent. There's a propulsive action flick quality to the film, more akin to something like 28 Weeks Later than most other horror efforts. Timothy Olyphant is his usual charming self as the sheriff, and as his deputy, relative newcomer Joe Anderson brings an escalating intensity to the role that keeps things interesting in the film's second half. The movie is also surprisingly good-looking for a horror film, intensifying the small town feel with its calm, desolate sepia-tinged visuals. The cinematography plays nicely against the chaotic happenings of the plot, upping the 'eery' factor tenfold. Even if the movie isn't especially memorable, it should more than suffice as an evening rental.
Available on Blu-ray? Yes.
Notable Extras: DVD – Commentary with director Breck Eisner, featurettes ("Behind the Scenes", "Creepy Paranormal Pandemics", "Crazy Make-Up Mastermind: Rob Hall in Action", "Thematic Exploration of George A. Romero Films), storyboards. Blu-ray – Includes everything on the DVD, as well as a digital copy.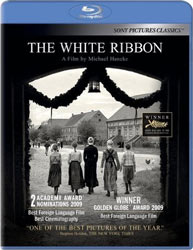 THE WHITE RIBBON
Michael Haneke must pride himself on his ability to make audiences as uncomfortable as possible. Whether it's through lack of music, interminable scenes, jarring cuts, or odious content, Haneke always seems to know exactly how to keep his viewers feeling ill at ease. I doubt he's much fun at parties. In any case, his latest film—which features all of the aforementioned filmmaker trademarks—is a deeply unsettling affair, as brilliant as it is frustrating. Set just prior to World War I, The White Ribbon is a troubling examination of societal and moral decay and the illusion of righteousness that hangs over it, challenging the viewer to unearth some dark truths about human nature. It demonstrates how monstrous acts can occur when youths are controlled—or more specifically, when they're violently punished for straying from that control. Though the film never directly comments on it, I doubt the pre-Nazi era setting is purely coincidence; Haneke was likely attempting to provide insight into how people might be capable of such atrocities. Thematically, the movie has a lot of interesting ideas it explores, and Haneke is incredibly assured in the way he explores them. The black-and-white cinematography is absolutely gorgeous, and operates in stark contrast to the underlying evil that's taking place. The sense of dread that Haneke builds throughout is almost overwhelming. It's never anything close to a pleasant viewing experience, but for those that are prepared for a formula-free, two-and-a-half hour mental assault from one of the world's most confrontational filmmakers, it's certainly interesting, and will leave you with a lot to think about.
Available on Blu-ray? Yes.
Notable Extras: DVD – Making of The White Ribbon, and "My Life" – A look at Michael Haneke's career. Blu-ray – Includes everything on the DVD, as well as Cannes Film Festival Premiere, and An Interview with Michael Haneke.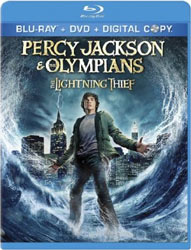 PERCY JACKSON & THE OLYMPIANS: THE LIGHTNING THIEF
I've already spent far more time than necessary discussing Percy Jackson & The Olympians: The Lightning Thief on the /Filmcast—where I dubbed it my Shit Movie of the Week, and proceeded to spend 15 minutes detailing as many inane scenes from the film as my memory would allow—so if you're looking for a thorough critique of this cheap-looking-yet-ridiculously-expensive Harry Potter wannabe, I recommend starting there. Everyone else needn't read further than the following scene description: A ray ban-wearing Medusa is combated by the poverty-stricken Percy Jackson by him waving an iPhone at the screen so he can see her reflection. That's merely one example of a dumb scene in a movie comprised exclusively of dumb scenes. Don't waste your time.
Available on Blu-ray? Yes.
Notable Extras: DVD – 5 deleted & extended scenes, a Discover Your Powers Quiz, and The Book Comes To Life featurette. Blu-ray – Includes everything on the DVD, as well as 5 additional deleted & extended scenes, 4 featurettes ("Secrets of the Gods", "Inside Camp Half-Blood", "On Set With Brandon T. Jackson", "Meet The Demigods"), and a digital copy of the film.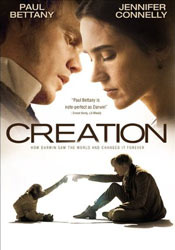 CREATION
Nothing in the reviews I've read for Creation has encouraged me to want to see the film, which, considering the content and actors involved (Paul Bettany, Jennifer Connelly, Toby Jones), is incredibly dismaying. There would seem to be so much potential in the story of Charles Darwin for a fascinating dissection of the conflict between scientific discovery and religious belief, but apparently his life has mostly been reduced to a conventional, stolid family drama.
Available on Blu-ray? No.
Notable Extras: Commentary with director Jon Amiel, a Battle for Charles Darwin Making of Documentary, Debating Darwin: 3 featurettes, Digging Deeper Into Darwin: 7 featurettes, and a Pollard on Film: Creation featurette.
EVERLASTING MOMENTS (CRITERION COLLECTION)
One look at the film's trailer should indicate right away what type of film this is, and whether or not it's for you. Set at the start of the 20th century, the story follows a young working class woman who experiences an artistic awakening upon winning a camera in a lottery. It's received wide acclaim from critics, rating an impressive 90% on Rotten Tomatoes.
Available on Blu-ray? Yes.
Notable Extras: DVD & Blu-ray – Troell Behind the Camera, The True Story of Maria Larsson, Troell's Magic Mirror, and an interior booklet.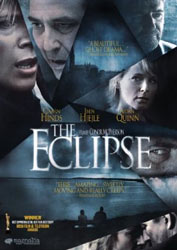 THE ECLIPSE
Not to be confused with the other Eclipse that releases this week, this Irish ghost story is also a supernatural romance, but one that's actually reliant on character development and believability. Reviews indicate that the film is solid, and the trailer does little to suggest otherwise.
Available on Blu-ray? Yes.
Notable Extras: DVD & Blu-ray – Making of The Eclipse, and HDNet: A Look at The Eclipse.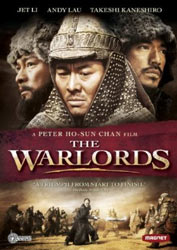 THE WARLORDS
A lavish Asian historical epic with massive battle sequences but not much else? Mildly positive reviews aside, that's a formula we've seen play out one too many times before, and not even Jet Li's name thrown into the mix will be enough to generate interest for all but the most fanatical of Asian cinema buffs. Maybe some commenters who have seen the film can persuade otherwise.
Available on Blu-ray? Yes.
Notable Extras: DVD – Deleted scenes, and The Warlords 117 Days: A Production Journal. Blu-ray – Includes everything on the DVD, as well as Making of The Warlords, featurettes, The Warlords: Behind the Scenes Special, and HDNet: A Look at The Warlords.
Other noteworthy DVD (and Blu-ray) releases this week...
Stolen [DVD / Blu-ray] – When You're Strange (A Film About The Doors) [DVD / Blu-ray] – Rush: Beyond the Lighted Stage [DVD / Blu-ray] – Warehouse 13 (Season 1) – Eureka (Season 3.5) – The Closer (Season 5) – Leave It To Beaver (Complete Series) – Night Train to Munich (Criterion Edition)
Noteworthy Blu-ray-specific releases this week...
Predator (Ultimate Hunter Edition) – The Leopard (Criterion Collection)

NOTES: Some deals may be in-store only. All deals are for DVDs unless otherwise noted.

$8.99 – Better Off Ted (Season 1)
$14.99 – Seinfeld (Season 1 – 9)
$16.99 – Breaking Bad (Season 1), 30 Rock (Season 3), Eastbound and Down (Season 1), Monk (Season 4 – 5)
$18.99 – Weeds (Season 3 – 4)

$6.99 DVD or $14.99 Blu-ray – The Simpsons Movie, Horton Hears a Who, Jumper
$4.99 – Adventures in Babysitting
$6.99 – The Goonies
$7.99 – Ferris Bueller's Day Off, Top Gun
$9.99 – E.T., The Breakfast Club

$12.99 – Blu-ray sale: Public Enemies, Role Models, Jarhead, Inside Man, Starship Troopers, Talladega Nights, Go, Donnie Brasco, Rudy, Black Hawk Down, Friday Night Lights, Apollo 13, Rudy, Wolf, Secret Window, and more...