First Look: Rango, The Star Of Gore Verbinski's Animated Film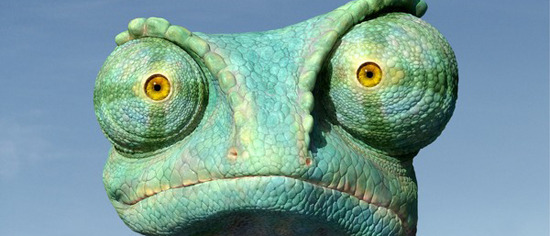 We've seen one very brief teaser trailer for Rango, the CGI animated film from Gore Verbinski that features Johnny Depp as the voice of the main character. That teaser was just an animated fish swimming across the frame, against a desert highway background. So, not much to go on there. A new teaser or trailer is evidently in the offing tomorrow, but now we've got the first full look at the character Depp voices.
I kinda love this little guy. Almost looks like Depp as Hunter Thompson as chameleon, and I can get behind that. Now I'm really curious to see more footage. Previously from Peter:
Based on an original idea by Verbinski, Rango is scripted by The Aviator scribe John Logan. Johnny Depp stars as a "chameleon with an identity crisis." Previous information has stated that Rango  is "a oddly charismatic household pet that goes on an adventure to discover its true self." The movie co-stars Isla Fisher, Abigail Breslin, Alfred Molina, Bill Nighy, Harry Dean Stanton, Ray Winstone, and Timothy Olyphant as The Spirit of the West.
[via FirstShowing]