Tom Hardy Talks Mad Max: Fury Road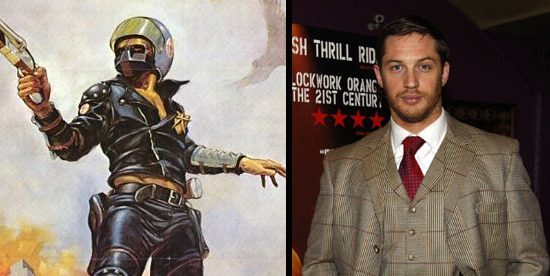 We've had little bits of news about George Miller's fourth film in the Max storyline, Mad Max: Fury Road, but until now nothing terribly significant. The casting of Tom Hardy in the lead role was a great step in the right direction, and now the actor is starting to talk about the film, which shoots later this year.
Hardy didn't offer up too many details ("I'm obviously limited as to what I can say.") but he did drop a few notes, including one that makes Fury Road sound as if it'll be straddling the line between sequel and reboot — bound to be the case, I suppose, when a new actor takes on a role that was totally established by another.
Collider, ComingSoon and First Showing were all in on an interview with Hardy during the press day for Inception, and he proclaimed that the movie is moving forward. "The movie is absolutely healthy. It is going, it's just a question of, not if, when precisely." Beyond that, the key statement from Hardy is,
It's a relaunch and revisit to the world, an entire restructuring. That's not to say that it's not picking up or leaving off from the Mad Max you know already, but it's a nice re-take on the entire world using the same character, depositing him in the same world, but bringing him up to date by 30 years. Obviously Mel would've been perfect for it but, for some reason, he's not doing it and I am. You can expect the same amount of grit and rawness and authenticity [to my] performance, I hope to deliver. But that's really the crux of me and George to deliver that and all the other actors as the other characters.
But the film should feel very live, and very practical, if his description comes to pass:
I think the boys that did Lord of the Rings are involved and all that kind of stuff as well. CGI is not going to be — I think it's going to be much more like Chris [Nolan], how he deals with action – these things are going to be really there. Big rigs, big explosions, big car crashes, big violence, you know.
Hardy is about to start stunt training now, and says he's booked for two months of that and then shooting for nine months. Sounds like he's got a specific look set for Max, and one that should be appropriate:
Imagine a hungry wolf. Or like when you put a cat in the bath. You grab a cat by the throat and stuff it under the fucking water. You know what it looks like? That's what I'm going to look like. But like a puma. Very hungry and very dangerous. It's imperative. This is the kind of guy who's not well. So I have to create that reality.