Leonardo DiCaprio Talks About Clint Eastwood's J Edgar Hoover Biopic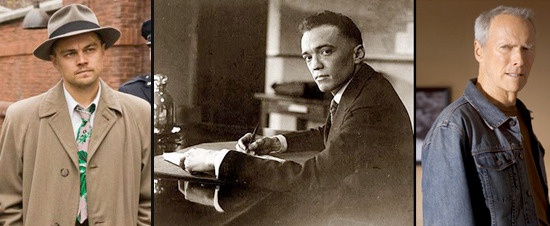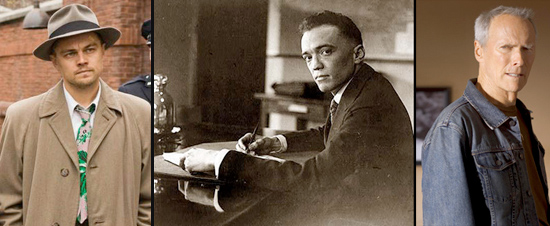 Last week it was reported that Leonardo DiCaprio had signed on to star in a biopic of original FBI director J. Edgar Hoover directed by Clint Eastwood.  Today at the press conference for Inception, DiCaprio was asked about the potential upcoming project, and the star confirmed that he is in talks for the role:
"Yeah, I'm talking to Clint Eastwood about playing J. Edgar Hoover, who had his hand in some of the most scandelous events in American history — everything from the Vietnam war to [John] Dillinger to Martin Luther King and JFK. It's about the secret life of J Edgar Hoover."
Dicaprio also confirmed that the story will span Hoover's life/career. But will he wear a dress? Answer after the jump!
Someone asked if he will wear a dress in the film, a reference to a claim made in Hoover's 1993 biography Official and Confidential: The Secret Life of J Edgar Hoover, which quoted a witness, Susan Rosenstiel, (who later served time at Rikers Island for perjuring herself in a 1971 case) who claimed to have seen Hoover engaging in cross-dressing in the 1950s at homosexual orgies. DiCaprio replied:
"Not as of yet. We haven't done the fittings for those... so I don't think so."
So there you have it.
Perviously:
The project is being written by Milk scribe Dustin Lance Black with Clint Eastwood attached to direct for Warner Bros. This would be DiCaprio's first collaboration with Eastwood.  Black wrote the screenplay for Ron Howard and Brian Grazer at Imagine Entertainment under the auspices of a deal with Universal, but that studio put the film into turnaround. The film is now set-up at Warner Bros (when Eastwood came on board, what else did you expect to happen?), and production is gearing up to begin later this year.
Here is some background from Russ Ficher's original report on the project:
Much more substantiated is the fact that Hoover would wield elements of the FBI and other federal energy to control and subvert the civil rights of those he considered enemies and dangers to democracy. He would compile information about the sexual preferences of some subjects, and reportedly used it to discredit them. Regardless of the truth behind the gay/cross-dressing rumor (an image that may have bloomed simply as a way to use Hoover's own smear campaigns against him) there's a lot of material in Hoover's story that would make it of interest to Dustin Lance Black. I love the idea of him drafting this script.
Hoover has been on screen several times before, most recently as played by Billy Crudup in Public Enemies. None of the screen portrayals of Hoover, however, hold a candle to the one written by James Ellroy in American Tabloid, The Cold Six Thousand and Blood's A Rover. I don't know that Ellroy's version of the man is true to life, but he writes him magnificently nonetheless. Channelled by Ellroy's pen, Hoover is a spider at the center of a massive web of information, always pulling strings and letting out slack to manipulate politics and culture. But he is tragically flawed by shortsighted arrogance. I'd be wild about seeing Ellroy's Hoover on screen, but I have faith that Black can come up with his own compelling presentation.
f401adf05f0f41c188ad2444e0158692