Mike Nichols In Talks To Direct Meryl Streep And Jeff Bridges In 'Great Hope Springs'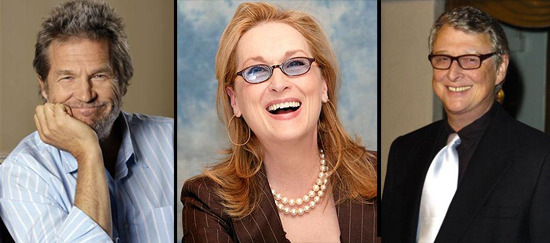 There's a new matrimonial drama brewing at Mandate Pictures — Great Hope Springs is based on a script by Vanessa Taylor, and it's the sort of film that, from a distance, might not seem too interesting. But with Meryl Streep and Jeff Bridges finalizing deals to star and Mike Nichols looking to direct, this might become a movie that you can't ignore.
Word about Bridges and Streep came down yesterday from Production Weekly and The Playlist. That's big news right there, given that this would be the first film Bridges has signed on to since winning the Oscar. Yesterday, it looked like I Am Sam's Jessie Nelson was going to direct. But today The Wrap has it that Mike Nichols is circling the director's chair. He and Streep were both nominated for Oscars when they worked together on Silkwood in 1983, so that would be a notable re-pairing.
The story actually sounds like a callback to the relationship dramas of the late '70s and early '80s: according to The Playlist "the film follows a couple who attend an intense counseling session over a weekend in order to decide the fate of their marriage." (I'm assuming that Great Hope Springs is the location of their weekend retreat; it's still a terrible title for the movie.)
If this comes together with Nichols directing Streep and Bridges, it's easy to assume that this will be a big movie come awards time. What would have made it even more so would have been to see Philip Seymour Hoffman cast as the marriage councelor. He was apparently close to taking that role, but scheduling problems (Paul Thomas Anderson's movie?) forced him to bail. Which is unfortunate — a movie with Streep, Bridges and Hoffman would seem, at least on paper, like a slam dunk.