WTF: Footage From Sean Connery's 'Sir Billi'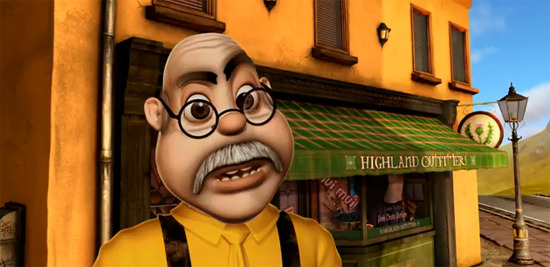 Sir Sean Connery has been absent from movie screens since 2003's The League of Extraordinary Gentlemen. Retiring on a high note can be difficult, but LXG is a more ignominious way to end a notable career than anyone would have predicted. So, to ensure that comic book misfire isn't the end point of his illustrious movie career, Connery is now part of something that looks even worse: an animated adventure called Sir Billi.
I honestly don't even know where to start. How about with the character voiced by Sean Connery, which looks like it was modeled by an Aardman Animation fan with cataracts and no understanding of human movement? The designs surrounding that character are a disparate collection of elements that lack any sense of unity or place — one element in a frame will look great, and two others will look like they come from a CGI demo from 2000.
OK, this is a promo reel, and the work is obviously not done — looking at the shots on the film's official site, you can see what they're going for. (The film has actually been in the works for a long time, and you'll find listings for a short film version from 2006.) But even if that goal is attained they'll still have to deal with the fact that the story and performances, as put forth in this reel, are beyond absurd. Why does Connery's character ride a skateboard? This isn't 1995. Does that goat have a Game of Death track suit? And perhaps Sir Connery's assistants need to be reminded to give him the valium after he leaves the voice recording booth, not before he gets in.
Here's the 'official' writeup from the YouTube post:
A sizzle reel from Sir Sean Connery's forthcoming animated feature film 'Sir Billi', produced in Scotland from independent animation studio Glasgow Animation and Billi Productions – Scotland's first full length animation feature film – due in cinemas next year! Stars, the iconic Connery, Alan Cumming, Miriam Margolyes, Ruby Wax, Ford Kiernan, Greg Hempill, Alex Norton, Barbara Rafferty, Larry Sullivan, Amy Sacco, Chris Jai Alex and John Amabile. They have amazingly recruited the legend Dame Shirley Bassey to sing the opening title track, reunited the original and best Bond and Bassey since their Goldfinger days! Sir Billi – the kind of Grandpa we all wish we had....go get 'em Scotland!
[via Cartoon Brew]