Movie Trailer: Red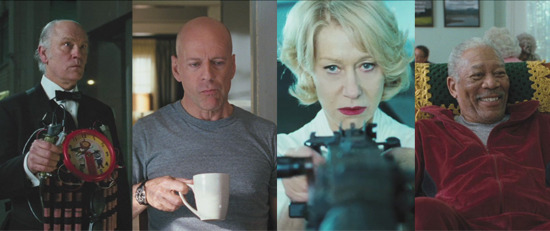 I would never have guessed that the director of Flightplan and The Time Traveler's Wife might turn out the most entertaining-looking under the radar comic book adaptation of this summer. But I grinned all the way through the trailer for Robert Schwentke's Red, which adapts Warren Ellis' graphic novel about a group of retired CIA agents. Check it out after the break.
My first thought as this played, once I got beyond the riff on 'Brazil' that scores some of the opening minute, is that it looks like an action movie version of Burn After Reading. Maybe it's just all the crazy John Malkovich that led to that idea.
My second thought was that every movie should have Helen Mirren looking awesome and shooting people. If they could also have Mary-Louise Parker, that would be OK, too.
Here's the synopsis, but just watch the trailer, here or in HD at Yahoo. It'll give you everything you need.
Frank, Joe, Marvin, and Victoria used to be the CIA's top agents — but the secrets they know just made them the Agency's top targets. Now framed for assassination, they must use all of their collective cunning, experience and teamwork to stay one step ahead of their deadly pursuers and stay alive. To stop the operation, the team embarks on an impossible, cross-country mission to break into the top-secret CIA headquarters, where they will uncover one of the biggest conspiracies and cover-ups in government history.
Summit will open Red, which stars Bruce Willis, Mary-Louise Parker, Helen Mirren, Morgan Freeman, John Malkovich, Karl Urban, Brian Cox, Richard Dreyfuss, Ernest Borgnine, Julian McMahon, and James Remar on October 15.