Daniel Radcliffe Set To Star In All Quiet On The Western Front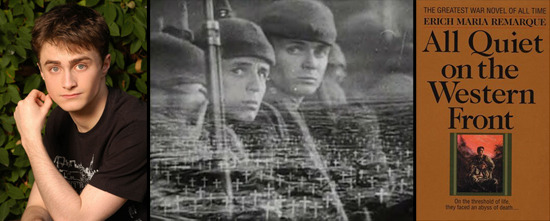 Seems that World War I is the new World War II, at least as far as movies are concerned. After years of movies and TV that exploited the backdrop of WWII (some to very good effect) we're now starting to see a few high-profile films that go back to the more gruesome trench warfare of the first worldwide conflict. There' Steven Spielberg's War Horse, which shoots in the fall, and now Harry Potter star Daniel Radcliffe is set to star in a new version of the classic novel All Quiet on the Western Front.
Variety says that the new adaptation of the novel, produced by Ian Stokell and Lesley Paterson (who also wrote the script) plans to shoot in the spring of 2012, after Radcliffe ends his Broadway run in How to Succeed Without Really Trying. Given that the film is rather far off at this point we don't have any more details, and aren't likely to for some time. That also means there's time for this to fall apart, though I wouldn't at all mind seeing Radcliffe move out of Hogwarts and into the uniform of a young German soldier fighting in France.Erich Maria Remarque's novel has been a staple in American English classes for decades, and was first adapted to film in 1930. That version won Oscars for Best Picture and Best Director, and was nominated for Best Cinematography and Best Writing at the 3rd Academy Awards. (Trailer for that version is below.) There's also a 1979 version that isn't nearly as good, based on my memory of it from years back.
If you're one of the few who've never read the novel, here's the quick recap:
Erich Maria Remarque's novel, one of the greatest war stories ever written and a classic of anti-war literature, tells the story of Paul Bäumer, a soldier who—urged on by his school teacher—joins the German army shortly after the start of World War I. Bäumer arrives at the Western Front with his friends. There they meet Stanislaus Katczinsky, an older soldier, nicknamed Kat, who becomes Paul's mentor. While fighting at the front, Bäumer and his comrades have to engage in frequent battles and endure the dangerous and often squalid conditions of warfare. More than just a tale of simple warfare on the field, the novel describes extreme physical and mental stress during the war, and the detachment from civilian life felt by many of these soldiers upon returning home from the front.