New Screenwriter Hired For Live-Action Akira Remake; Albert Hughes Talks PG-13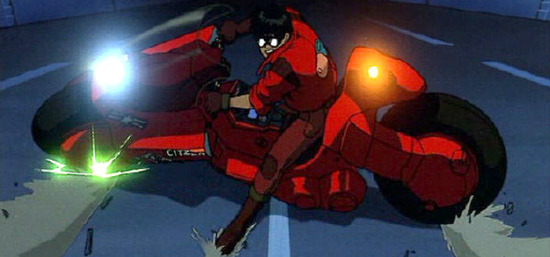 It's taken a while for Warner Bros. to get a plan together with respect to the live-action adaptation of Katsuhiro Otomo's six-volume manga Akira, which Otomo previously directed as anime. That 1988 version became a landmark effort in anime, setting a bar for the remake that many fans consider impossibly high. But the anime, massively condensed from the manga and with an alternate ending, has an awkward, exposition-heavy narrative that isn't nearly as engrossing as the beautiful animation.
So, yeah, there's some leeway for a live-action adaptation that has the space to stretch the story out between two films. Or I thought there was, until I heard the writer of Henry Poole is Here would be penning the latest draft.
Collider spoke with producer Andrew Lazar, who gave an update on the film.First up, he seems to emphasize in the interview that only Albert Hughes, not Albert and his brother Allen Hughes, are directing.
Albert Hughes is directing the film, and he's off conceptualizing the movie with a bunch of visual artists, and we've just hired a new writer, Albert Torres, to work with Albert Hughes...he's [seeming to mean Hughes] putting his stamp on Akira.
Albert Torres' only produced credit is Henry Poole is Here, the fairly terrible 2008 Mark Pellington-directed film that starred Luke Wilson as a guy who buys a house in his childhood neighborhood to live out what he thinks are his last days. He discovers a stain on the side of his house that looks like Jesus, and the image is taken as a miracle.
Some of the problems with the film definitely lie in Pellington's overtly music video direction. (There are sequences, as when Poole wanders the LA river, where the movie just turns into a music video, to no good effect.) But the film's schmaltz and cloyingly heavy sentiment seem lodged in the screenplay. Seeing Torres on something like Akira, a story that led to a top-heavy script laden with dull exposition even when the original creator wrote it...well, I'm not thrilled.
There's another reason I'm not thrilled. Albert Hughes just appeared on a Washington, DC radio show (via Film School Rejects) where he talked about the film being PG-13 and the idea that he might only direct the first of two planned films. (One adapting the first three manga volumes, and the second volumes four through six.)
PG-13 isn't a big deal, nor is it a surprise. This is going to be a massive production, and after Watchmen I can't imagine that Warner Bros. is terribly eager to drop $150m+ on an R-rated film with niche fan appeal. If The Dark Knight can work as a PG-13 film then so can Akira. As Hughes says in the interview, it's a challenge, but it can be done.
But I don't think I'm imagining a bit of pessimism, or at least weariness, in Hughes' voice when he says he might only do the first of the two projected films. "I'm not into sequels," he says. "I don't even know if I wanna be around for the sequel. I'm just focusing on the first movie." In most circumstances, focusing on the first movie is a great idea, but in a situation like Akira, when that is literally only half the story, that doesn't seem like the best plan.
Torres draft, which is being written with Hughes, is evidently due in September, so there's still a ways to go before we hear any real new info on their approach.