Mark Waters And Jim Carrey To Adapt Mr. Popper's Penguins?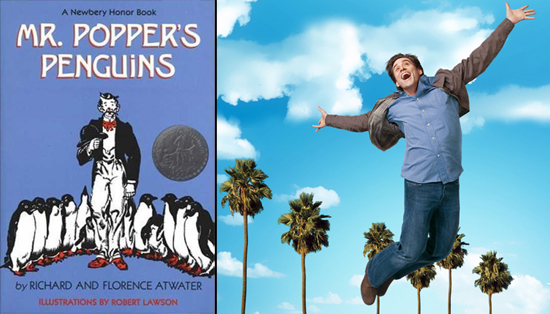 Fox is trying to figure out a strategy to put to work adapting Richard and Florence Atwater's WWII-era childrens' book Mr. Popper's Penguins. Earlier this year it looked for a moment like Noah Baumbach and Ben Stiller might reunite post-Greenberg to make the film. But that didn't work out and Fox has continued to look for talent.
Now there's a report that pins two new names to the project: director Mark Waters (Freaky Friday) and Jim Carrey.
The LA Times says that nothing is confirmed at this point, and given that the last news about the project turned out to be a misfire I wouldn't suggest that fans of the book take this as gospel just yet. The LAT says that Owen Wilson and Jack Black are also names that have been bandied about.
All of which says that, rather than the quirky adaptation the Baumbach-Stiller collaboration might have turned out, this is likely to be a broad, big-budget affair with a lot of CGI animals. Not much of a surprise, but that's rather less interesting than the Baumbach version. (At least, it's less interesting than the Baumbach version I conjured in my head, which was based to a great extent on his screenplay contribution to Fantastic Mr. Fox.)
Here's the book synopsis once more, so you can conjure your own version with Carrey, Wilson or (cringe) Jack Black. Let's see how Fox keeps this from becoming a debacle to match Universal's Evan Almighty, the sequel to Carrey's Bruce Almighty.
Poor Mr. Popper isn't exactly unhappy; he just wishes he had seen something of the world before meeting Mrs. Popper and settling down. Most of all, he wishes he had seen the Poles, and spends his spare time between house-painting jobs reading all about polar explorations. Admiral Drake, in response to Mr. Popper's fan letter, sends him a penguin; life at 432 Proudfoot Avenue is never the same again. From one penguin living in the icebox, the Popper family grows to include 12 penguins, all of whom must be fed. Thus is born "Popper's Performing Penguins, First Time on Any Stage, Direct from the South Pole." Their adventures while on tour are hilarious, with numerous slapstick moments as the penguins disrupt other acts and invade hotels.