This Week In DVD & Blu-Ray: Green Zone, She's Out Of My League, Hung (Season 1), And More
We may receive a commission on purchases made from links.
This Week in DVD & Blu-ray is a column that compiles all the latest info regarding new DVD and Blu-ray releases, sales, and exclusive deals from stores including Target, Best Buy and Fry's.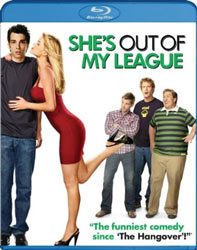 SHE'S OUT OF MY LEAGUE
Nobody will ever acknowledge this, but She's Out of My League is likely to do more good for the world than a movie like Precious or Milk ever could. The latter are films that, while well-intentioned, have almost no chance of broadcasting their message to an audience that doesn't already agree with what they have to say. She's Out of My League, however, sells itself on the exact premise it seeks to admonish. The marketing campaign was built entirely around the conceit of applying a number value to people ("How could a 10 go for a 5?"), apparently playing on our current generation's abhorrently shallow societal outlook for an easy laugh. Instead, it tells the story of how that sort of bullshit causes a self-doubting nice guy to nearly sabotage his relationship. Its examination of the effect that this unfortunate cultural development has been having on people's sense of self-worth doesn't overshadow its affection for goofy humor, but it's far more honest and intelligent than its moronic trailer would have you believe. And funnier, too.
Available on Blu-ray? Yes.
Notable Extras: DVD & Blu-ray – Commentary by director Jim Field Smith, deleted scenes, an extended ending, a blooper reel, and a Devon's Dating Show dating guide for guys.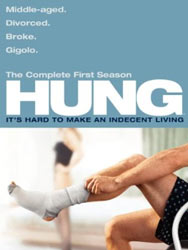 HUNG (SEASON 1)
Hung is a HBO show about Thomas Jane having a big penis and being a whore. Naturally, the only assumption to make from this is that it's also the best new show on TV. This isn't the case, sadly, but it is perfectly serviceable entertainment. Despite making it all the way through the show's 10-episode first season without it leaving much of an impression—or giving me much desire to continue watching—I was never bored. The series has a simple premise, provides an enjoyable blend of drama and comedy playing off that premise, and falls nicely in line with a lot of the other semi-trashy, formula-heavy shows on TV right now, such as: Californication, Weeds, Entourage, and United States of Tara, among others. If you like those, this is another one to add to the list.
Available on Blu-ray? Yes.
Notable Extras: DVD & Blu-ray – 3 audio commentaries by series creators Colette Burson and Dimitry Lipkin and writer Brett C. Leonard, two featurettes ("About Hung", "The Women of Hung"), and Ray and Tanya's personal ads.

GREEN ZONE
With Green Zone, Paul Greengrass tries to replicate the thrill of the Bourne sequels by transposing his propulsive style to a real-world conflict, but only succeeds at delivering an energetic exercise in artificiality and heavy-handedness. The movie is a political statement masquerading as an action-thriller. Any weight it holds is strictly due to the reality on which it's based—nothing the film itself brings to the table carries any insight or subtlety. It wants you to believe it's simultaneously thoughtful and exciting, but the majority of the film consists simply of Matt Damon's blank-slate of a character wandering from location to location while exposition is forced down our throats through clichéd dialogue and trite confrontations. I found myself increasingly bored during it, and its eventual attempt at a climactic payoff—as well as its final wish-fulfillment tag at the end—did little to change that.
Available on Blu-ray? Yes.
Notable Extras: DVD & Blu-ray – Commentary with Matt Damon and director Paul Greengrass, deleted scenes, featurettes ("Inside the Green Zone", "Matt Damon: Ready for Action"), and a digital copy of the film.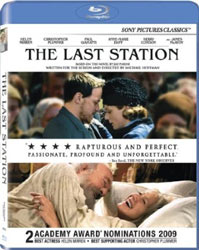 THE LAST STATION
The Last Station could be rubbish, and it would still probably be worth watching for the cast alone. Helen Mirren, Christopher Plummer, Paul Giamatti and James McAvoy? Consider me intrigued. If the prospect of a Leo Tolstoy biopic did anything for me, I'd be sold. I wish I could say the primarily positive response was enough to convince me, but even the film's favorable reviews have been less than enthusiastic, painting it as a fairly dry actor's showcase.
Available on Blu-ray? Yes.
Notable Extras: DVD & Blu-ray – Commentary with Christopher Plummer and Helen Mirren, a second commentary with director Michael Hoffman, deleted scenes, outtakes, and a Tribute to Christopher Plummer.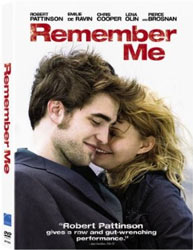 REMEMBER ME
If you have no intention of seeing Remember Me—and let's be honest, why would you?—you should at least do yourself the courtesy of spoiling the ending. It's so ridiculous, the majority of those I've told about it have accused me of lying or messing with them, unable to believe that a major Hollywood release could possibly resort to such cheap tactics. The real story here though, is that, somehow, Robert Pattinson managed to find and star in the one other movie more offensive than the Twilight films.
Available on Blu-ray? Yes.
Notable Extras: DVD & Blu-ray – Commentary with director Allen Coulter, a second commentary with cast including Robert Pattinson, and a making-of featurette.
Other noteworthy DVD (and Blu-ray) releases this week...
Entourage (Season 6) [DVD / Blu-ray] – Close-Up (Criterion Collection) [DVD / Blu-ray] – Red Desert (Criterion Collection) [DVD / Blu-ray] – Night Train to Munich (Criterion Collection) – Timer – The Maid – Avatar: The Last Airbender: The Complete Book 1 (Collector's Edition)
Noteworthy Blu-ray-specific releases this week...
A Star is Born – Death Race 2000

NOTES: Some deals may be in-store only. All deals are for DVDs unless otherwise noted.

$9.99 – Blu-ray sale: Hancock, The Aviator, The Punisher
$12.99 – Blu-ray sale: Point Break, The Silence of the Lambs, Napoleon Dynamite
$14.99 – Blu-ray sale: Law Abiding Citizen, State of Play, Pandorum
$4.99 – Watchmen, Shoot 'Em Up, Super Troopers, Terminator 2, Beerfest, Traitor

$12.99 – Blu-ray sale: Watchmen (Director's Cut), 300, Gran Torino, Heat, I Am Legend, Troy, Harry Potter and the Order of the Phoenix, Harry Potter and the Chamber of Secrets, Superman: The Movie, Superman II: The Richard Donner Cut, True Romance, Unforgiven, The Golden Compass, The Neverending Story, Beetlejuice, Journey to the Center of the Earth, and more...