Screenwriter Michael Gilio Scripting Carter Beats The Devil For WB And The Interventionalist For Alexander Payne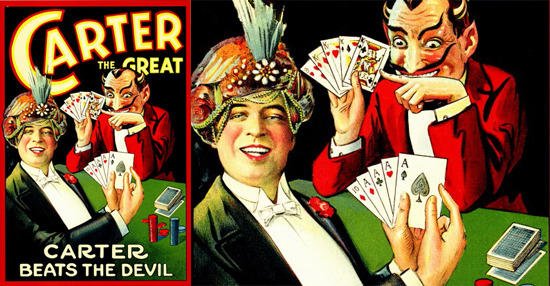 We may receive a commission on purchases made from links.
Carter Beats the Devil is one of those novels that made a big splash, was quickly optioned and then dropped right into development hell. But now it is getting a second chance at Warner Bros., with Michael Gilio set to script. (He wrote the draft of Treasure Island for WB that Paul Greengrass is reportedly directing.) In addition, Gilio has written a script for director Alexander Payne. But is that for Payne to produce, or direct?Deadline explains in brief how Tom Cruise and Paula Wagner tried to get the movie going at Paramount before the project stalled. Other efforts have been made to develop a film and a mini-series, but Carter has remained in development hell for eight years. Now producer Jon Shestack has it set up at WB, and says ""I've been trying to get Warner Bros to buy it since the day it came out and that it's finally happening is enough to make me believe in magic."
As Amazon summarizes, Glen David Gold's debut novel
...opens with real-life magician Charles Carter executing a particularly grisly trick, using President Warren G. Harding as a volunteer. Shortly afterwards, Harding dies mysteriously in his San Francisco hotel room, and Carter is forced to flee the country. Or does he? It's only the first of many misdirections in a magical performance by Gold. In the course of subsequent pages, Carter finds himself pursued by the most hapless of FBI agents; falls in love with a beautiful, outspoken blind woman; and confronts an old nemesis bent on destroying him.
Meanwhile, what is The Interventionalist, which Deadline offhandedly mentions that Gilio has scripted for Alexander Payne? This is the first that I've heard of that script, and consequently of Payne's involvement.
Payne is producing the series Hung, the film Cedar Rapids, and is finishing up The Descendants (see a tiny bit of fan-filmed on-set footage here) and possibly still planning to direct Downsizing, which he'd been set to make prior his current film. (Though I wouldn't be surprised at all to hear that Downsizing is actually dead. Just hoping it isn't.) The Descendants is the first movie Payne has directed that he didn't write; would this be his second, or is this only a producing gig as well?
So: The Interventionalist. There are a few possibilities here. Spelled as Deadline has it, that's primarily a medical term, while the alternate spelling, 'interventionist,' leads to a couple things like this book, which "classifies various syndromes that prevent a church from making the changes that are needed for new life" and this one, which describes Banksy-like artists who "who trespass into the everyday world to raise our awareness of injustice and other social problems." Hm, OK. Given Payne's tendencies towards the weighty, I'd expect the Deadline spelling to be correct, with all associated medical implications. But we don't know.
If you've got any info on this one, please drop me a line. I'm quite curious.