Fright Night Adds Imogen Poots, Plus Some More Remake Details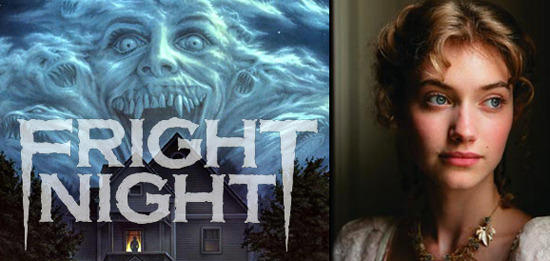 Update: As a few people have mentioned, Fright Night, which will be in 3D, also now has a release date: October 7, 2011. Amazing it has actually been given an October date.
The cast of the Fright Night remake, directed by Craig Gillespie (Lars and the Real Girl), has been shaping up quite nicely. The last major missing piece was an actress to play Amy, the girlfriend of Charlie Brewster (Anton Yelchin), the high school kid who discovers that a vampire has moved in next door.
Now the talented and rapidly up and coming Imogen Poots (28 Weeks Later, Me and Orson Welles, Solitary Man) has taken the role, and the film is all set to shoot in a few weeks. More details on how this version of Amy differs from the character in the original, plus some other thoughts on the remake, after the break.
First, the basic setup. Yelchin plays Charlie Brewster and Toni Collette his mother Jane. Colin Farrell is Jerry, the very good-looking and utterly demonic vampire who moves into the Brewsters' neighborhood in the Las Vegas suburbs. And Christopher Mintz-Plasse is Evil Ed, Charlie's horror aficionado best friend.
Warning: some minor spoilers ahead for the remake. I won't reveal anything big, but if you don't even want to know how the characters are different from the original, stop reading now.
So in this version, Charlie and Evil Ed have grown apart as Charlie had a little growth spurt going into his senior year. He's much more good-looking than he used to be, and more of a jock. That's helped him get involved with Amy, who is put across in the script as one of the hottest girls in school. He's basically dumped Ed's friendship for Amy.
So Charlie is distracted by Amy and it's Ed that realizes the new neighbor, Jerry, may not be human. Jane is a more active character here than in the original, and those character differences all set up a series of events that are quite a bit different and slightly more action-oriented than those of the original film. The Evil Ed gay subtext from the original is pretty much eliminated, replaced by a theme about how friendships change as we start to grow up. (There's even a line from Ed that tries to jokingly reference the original gay subtext.)
Oh, and the reason that the vampire in the new Fright Night has been described as the shark from Jaws? That's actually how Evil Ed describes him in the script: "Fiction, okay? This is real...He's the fucking shark from JAWS. He feeds, he kills and he doesn't move on until everyone around him is dead." (Later on, a physical description of the vampire's black eyes uses the word shark, too.)
And if you're wondering about a casting choice for Jerry's 'live-in carpenter' slash human right hand man (played by Jonathan Stark in the original) wonder no more: that character isn't in the script at all.
One final note: We know that David Tennant from Dr. Who is playing Peter Vincent, the showman and pseudo-expert on vampires that Charlie recruits to help fight Jerry. The character has a smaller role here than in the original, but there's an interesting possibility in the script that could lead to Tennant fans getting a pretty neat performance out of him. I'm not sure if that angle is going to be treated as the script suggests it should.