Movie Trailer And Poster: Hello Lonesome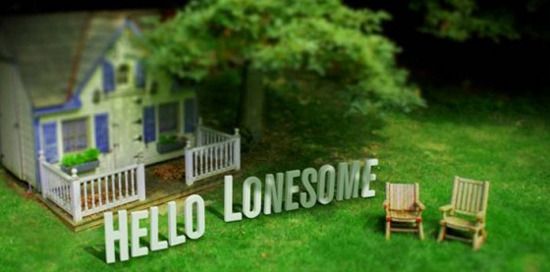 One of the films opening the LA Film Festival, which started last night, is Hello Lonesome, a low-key indie romance and debut feature from Adam Reid. (He's the guy who directed the trailer for the book Abraham Lincoln: Vampire Hunter, oddly enough.) The film follows three odd-couple pairings with what looks like an appropriate, if very 'indie' combination of sensitivity and humor. There's now a great poster for the film, complementing the trailer that was released not long ago.
Film School Rejects premiered the poster earlier this week, and highlighted the trailer as well. I love the poster to death — you can see it in full below. The idea of miniatures is seen explored in part in the trailer, where one of the characters is emerging from a tiny house. I don't know to what degree that is anything more than a cute visual motif, but I'm intrigued.
The film stars James Urbaniak (an actor I always love), Nate Smith, Sabrina Lloyd, Lynn Cohen and Harry Chase. Chase is a newcomer, but based on the trailer it looks like he might offer some of the movie's better moments. Hello Lonesome plays tonight, Friday June 18 at 7:30pm, Tuesday June 22 at 10:15pm, and Wednesday June 23 at 5:30pm.
Here's the official synopsis:
Single urbanite Gordon (NATE SMITH) meets Debby (SABRINA LLOYD) online and finds their new relationship put to the ultimate test. A suburban widow (LYNN COHEN) gets much more than she was looking for when she loses her license and leans on her neighbor (JAMES URBANIAK) for support.   And in the country, successful voice-over artist Bill Soap (HARRY CHASE) starts to make amends for being such a lousy father.   Sparkling with wit and humanity, Hello Lonesome is the first feature film from writer/director Adam Reid.