Demi Moore, Paul Bettany And Simon Baker Join 'Margin Call'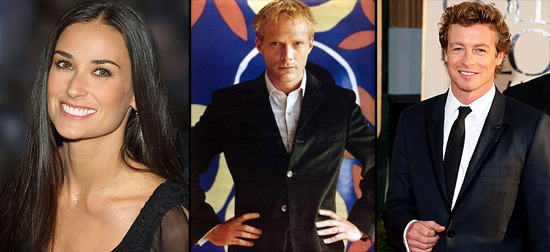 The film Margin Call, essentially sounding like a dramatization of our recent economic crisis, has come together very fast. We first heard about it at Cannes, when sophomore writer/director J.C. Chandor and his producers lined up Kevin Spacey and Zachary Quinto as part of the cast. (Quinto is one of the producers, so he lined himself up, technically speaking.) Now we've got many more names, including Demi Moore, Paul Bettany and Simon Baker.
Deadline reports on Demi Moore joining the cast, and seems to confirm a report from earlier this week that Paul Bettany and Simon Baker were signing on.
Moore will be "the chief risk management officer" of a financial firm. According to THR, Baker will be "a ruthless, high-powered securities broker who oversees  the characters played by Kevin Spacey, Stanley Tucci and Zachary Quinto and drives his colleagues to win by any means necessary." Bettany will be a top-tier trader.
Penn Badgley is also in the cast, and we'd heard that Carla Gugino was a part of the film, too.
Previously, we'd heard that the film "tracks eight people at a prominent investment bank in a tumultuous 24-hour period during the early stages of the financial crisis" and looks on as they try to come to terms with the impending financial disaster.
In simplified terms, the title of the film refers to one of the facets of margin trading, which is basically buying stock and/or securities partially with money borrowed from a broker. A buyer deposits money into a margin account, and can then borrow up to 50% of the value of securities to be purchased. If you'd bought on margin and then the value of the purchased securities fell, you'd face a margin call, which requires either depositing more money into the account, or selling assets to cover the shortfall. When this happens on a large scale, things get ugly: it's financial horror.
The film begins shooting Monday in New York City.