Crank Duo Negotiating To Direct Ghost Rider Sequel, Starring Nicolas Cage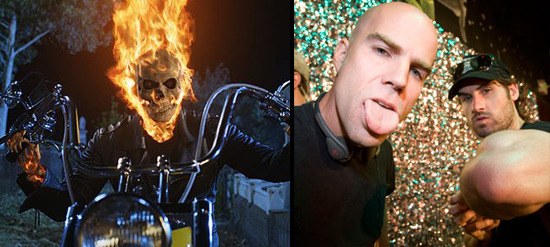 The last time we heard about Ghost Rider 2, now being called Ghost Rider: The Spirit of Vengeance, there was a possibility that it would be moving forward without Nicolas Cage, because Sony needs to make the sequel soon or lose the rights altogether. (It could be Ghost Rider Shrugged!) Now there's a report that Cage will likely star in the film. And there is a director nearly set. Or make that directors: Mark Neveldine and Brian Taylor, the men behind the two Crank films, are negotiating to make the sequel.
THR says that Neveldine and Taylor would direct Ghost Rider: The Spirit of Vengeance, and that Cage is in early negotiations to reprise his role as Johnny Blaze, the stunt cyclist who can turn into a demon of vengeance whose head is a flaming skull.
The script story is by David Goyer, and last we heard Scott Gimple and Seth Hoffman (Flash Forward) had turned in a draft of a script. There's reason to think that Neveldine and Taylor might rewrite the script, but until a deal is signed we won't have further info. The duo have comic book movie backgrounds (besides the Crank films, which are basically comic books) as they wrote the script that became the basis for Jonah Hex, and were once planning to direct that film.
Given that I had no expectation that this sequel would actually be better than the dire first film, this hire would be just about perfect. Neveldine and Taylor have a kinetic, totally seat of the pants filmmaking style, and given that this movie is going to happen one way or the other, I can't quickly come up with a directorial hire more perfect for it. Imagine the insanity of Crank 2 combined with Nic Cage playing a guy who turns into a flaming skulled-demon? Yeah, that works for me. What more could you really want from a property that, based on the first film, should simply be dead?