This Week In DVD & Blu-Ray: The Book Of Eli, Youth In Revolt, Mary And Max, And More
We may receive a commission on purchases made from links.
This Week in DVD & Blu-ray is a column that compiles all the latest info regarding new DVD and Blu-ray releases, sales, and exclusive deals from stores including Target, Best Buy and Fry's.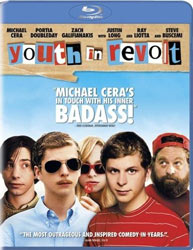 YOUTH IN REVOLT
The lackluster box office performance of Youth in Revolt does not bode well for Scott Pilgrim vs. the World. Has the world had their fill of Michael Cera? Perhaps so, and though I understand the accusations lobbied against him—that he has no real acting skill, and has conveniently fashioned a career out of playing himself in every movie—I respectfully disagree. Very few actors have as brilliant of comedic timing as Cera, and even fewer are quite so capable at projecting the awkward social anxieties of the introverted mind. The reason he's been typecast is because he looks and sounds like Michael Cera, and when you look and sound like Michael Cera, there isn't much variation in the sorts of roles for which Hollywood thinks you're suited. With Youth in Revolt, Cera continues his trend of playing meek, soft-spoken adolescents who are awkward and in love, but the familiarity is contrasted nicely with the mustachioed, sociopathic supplementary persona known as Francois Dillinger, which is a role unlike any that Cera has played. It may surprise many to discover how much control he has over his performance, (hopefully) settling the debate about his acting ability once and for all. The film itself is quite good, too, and riotously funny. Though the storyline is distinctly episodic, there's an old school charm to the way it unfolds, and the emphasis on smart, urbane dialogue to convey much of the humor is refreshing. Even if the comic episodes are nothing you haven't seen before, the writing and performances—including a terrific supporting cast that includes Zach Galifianakis, Ray Liotta, Fred Willard, Steve Buscemi, and Justin Long—keep the material feeling fresh. Director Miguel Arteta ups the indie quirk factor a little too aggressively with a variety of animated segues, but the movie is consistently hilarious enough that they never become much of a concern. As of now, it's a definite comedic highlight of 2010.
Available on Blu-ray? Yes.Notable Extras: DVD & Blu-ray – Commentary with director and Michael Cera, deleted scenes, deleted/extended animated sequences, and audition footage.
BEST DVD PRICE
Target
Best Buy
Fry's
$19.99
$17.99
N/A
Amazon – $16.49
BEST BLU-RAY PRICE
Target
Best Buy
Fry's
$24.99
$24.99
N/A
Amazon – $19.99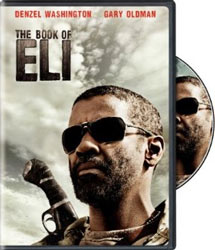 THE BOOK OF ELI
The Book of Eli is two hours of Denzel Washington being a badass. Fine by me. As far as I'm concerned, entertainment doesn't get much better than watching a silhouetted Denzel slicing off bad guys' limbs. While the movie doesn't live up to its lofty ambitions for a greater intellectual relevance, the premise is undeniably intriguing, and succeeds at propelling the protagonist through the enjoyable set pieces far more effectively than most action movie MacGuffins. Many have dismissed the film as being on-the-nose religious propaganda, which is an accusation I find amusing since nobody seems able to agree on whether it's propaganda for religion or against it. I'll go ahead and state the obvious: it's neither. The film is attempting to explore both the positive and negative effects of religion, and how its power stems from the way in which it's used. Still, this is a fairly complex theme to inject in what is essentially B-grade action junkie silliness, and the film is only able to take it as far as its simplistic good-and-evil dichotomy will allow.
Available on Blu-ray? Yes.Notable Extras: DVD – Additional scenes, and a featurette ("The Lost Tales"). Blu-ray – Includes everything on the DVD, as well as additional features ("Starting Over", "Soundtrack Piece", "Eli's Journey"), a digital copy, and a copy of the DVD.
BEST DVD PRICE
Target
Best Buy
Fry's
$16.99
$17.99
$16.97
Amazon – $16.99
BEST BLU-RAY PRICE
Target
Best Buy
Fry's
$24.99
$25.99
N/A
Amazon – $24.99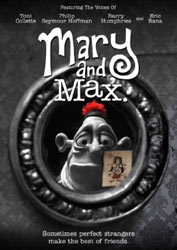 MARY AND MAX
Mary and Max is the tale of an unlikely friendship that spawns between two pen-pals—Mary, a friend-less 8-year-old girl, and Max, a 44-year-old obese man suffering from Asperger syndrome. The plot doesn't seem capable of sustaining a feature running time, and yet writer-director Adam Elliot has such a fascinatingly distinctive artistic voice that he makes it work. Largely recounted through voiceover, Mary and Max is less a typical narrative than it is a story being told to the audience, with the two lead characters only speaking when they there's a letter to be read. While I found this a little off-putting initially, I quickly found myself warming up the film, taken in by its beautiful claymation design and constant story oddities. The animation here isn't merely a means to an end; it's used specifically because of the stylistically natural way in which it is able to convey what the characters are feeling and thinking, the latter of which consists of some awfully bizarre things. I wasn't as emotionally affected by it as others have been, but it's a nice, thoughtful tale executed exceptionally well, and deserves to be seen by anyone who has ever felt lonely or disconnected from the rest of the world. In other words: everyone.
Available on Blu-ray? Yes.Notable Extras: DVD & Blu-ray – A commentary by Adam Elliot, two making-of featurettes, and alternate scenes.
BEST DVD PRICE
Target
Best Buy
Fry's
$19.19
$14.99
$20.00
Amazon – $18.99
BEST BLU-RAY PRICE
Target
Best Buy
Fry's
$22.59
$19.99
$24.00
Amazon – $21.49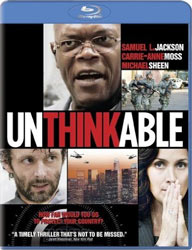 UNTHINKABLE
Unthinkable doesn't explore its themes with quiet reflection or dramatic nuance so much as it does yell them at you while punching you in the face. But then, I suppose there's no room for subtlety when it comes to dealing with terrorism. As far as thrillers go, it's one of the more gripping films I've seen in a while, very adept at ratcheting up tension and utilizing its strong cast (which includes Carrie-Anne Moss, Samuel L. Jackson and Michael Sheen). It's also frequently preposterous. The story, which has a terrorist being questioned for information regarding the location of three nuclear bombs set to go off in a matter of days, centers around an FBI and a professional interrogator, both of whom represent opposite ends of the moral spectrum when it comes to torture. The urgency that the ticking time bomb plot device brings helps to offset its movie world logic, but the absurdity of certain characters' actions negates that. The film works best if you refrain from thinking of it as a real world scenario, and instead consider the ways in which the questions it poses could be appropriated for more realistic threats. This begs the question: Is Unthinkable a good movie? I'm not sure. But it's certainly an effective one.
Available on Blu-ray? Yes.Notable Extras: DVD & Blu-ray – Commentary with director Gregor Jordan, and an extended version of the film with an alternate ending.
BEST DVD PRICE
Target
Best Buy
Fry's
$20.49
$19.99
$19.99
Amazon – $19.99
BEST BLU-RAY PRICE
Target
Best Buy
Fry's
$22.99
$24.99
$24.99
Amazon – $19.99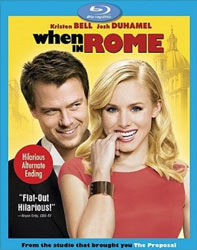 WHEN IN ROME
Between When in Rome, Couples Retreat and Pulse, Kristen Bell appears determined to destroy all the goodwill she built up with Veronica Mars. If you were to chart my facial expressions during the film's trailer, you would have an easier time identifying the moments where I wasn't wincing. In a period of less than four minutes, the trailer manages to subject viewers to the following classic gems: the "That's me!" protagonist voiceover announcement, record skipping, out-of-place radio singles, a cut-to audience gasping gag, getting cut off before finishing the line "Son of a b-", the lead characters dancing goofily, and a pratfall followed by the line "My bad!". Actually, that's only the first minute and 30 seconds. It gets worse from there. If the trailer is any indication of the final product, I'd sooner drink paint than watch it.
Available on Blu-ray? Yes.Notable Extras: DVD – Deleted scenes, two music videos (by 30H3 and Friday Night Boys), and bloopers. Blu-ray – Includes everything on the DVD, as well as an alternate opening and ending, additional deleted scenes, extended scenes, and a Crazy Casanovas: Mischief From The Set featurette.
BEST DVD PRICE
Target
Best Buy
Fry's
$17.99
$17.99
$17.97
Amazon – $15.49
BEST BLU-RAY PRICE
Target
Best Buy
Fry's
$24.99
$25.99
N/A
Amazon – $22.49
Other noteworthy DVD (and Blu-ray) releases this week...Family Guy (Vol. 8) – American Dad (Vol. 5) – The Horseman [DVD / Blu-ray] – Burma VJ: Reporting from a Closed Country – Mystery Train (Criterion Collection) [DVD / Blu-ray] – Collapse – Happy TearsNoteworthy Blu-ray-specific releases this week...Showgirls (15th Anniversary Edition) – Vengeance Trilogy (Sympathy for Mr. Vengeance/Oldboy/Lady Vengeance) – Flash Gordon – Darkman

NOTES: Some deals may be in-store only. All deals are for DVDs unless otherwise noted.

Exclusive: Free $10 Target Gift Card when you buy BOTH Family Guy (Vol. 8) and American Dad (Vol. 5).$14.99 – Blu-ray sale: Zombieland, District 9, The Departed, The Hangover, Troy, Angels & Demons, The Boondock Saints II$12 – Blu-ray sale: 2012$9.99 – Blu-ray sale: Law Abiding Citizen, The Assassination of Jesse James by the Coward Robert Ford, Hancock, Rudy, The Last Samurai, Training Day, Seven Pounds

Exclusive: Family Guy (Vol. 8) includes digital copy of 4 Stewie episodes.Exclusive: American Day (Vol. 5) includes digital copy of 4 Peter episodes.$4.49 – Kung Fu Hustle (Axe-Kickin' Edition), Talladega Nights, Snatch, Black Hawk Down, 212 for $20 – Pulp Fiction (Collector's Edition), Who Framed Roger Rabbit (Vista Series), No Country for Old Men, Ed Wood (Special Edition), Pirates of the Caribbean: At World's End$17.99 – Blu-ray sale: The Hurt Locker$19.99 – Blu-ray sale: Shutter Island, Avatar, Public Enemies, Edge of Darkness, Crazy Heart, Invictus, Sherlock Holmes, Ninja Assassin, From Paris with Love, In Bruges, Caddyshack, Legion$49.99 – Blu-ray sale: Spider-Man Trilogy$54.99 – Blu-ray sale: The Godfather Trilogy (The Coppola Restoration)$59.99 – Blu-ray sale: The Bourne Trilogy, Band of Brothers

$10.99 – Blu-ray sale: The Professional, Close Encounters of the Third Kind, The Karate Kid, The Karate Kid II, Night of the Creeps, The Mask of Zorro, Wolf, Resident Evil: Extinction, 21$12.99 – Blu-ray sale: Donnie Brasco, Black Hawk Down, Casino Royale, Dracula, Go$15.99 – Blu-ray sale: The Godfather: Part II, The Dark Crystal, Never Say Never Again