A Karate Kid Sequel? After This Weekend's Performance, Bet On It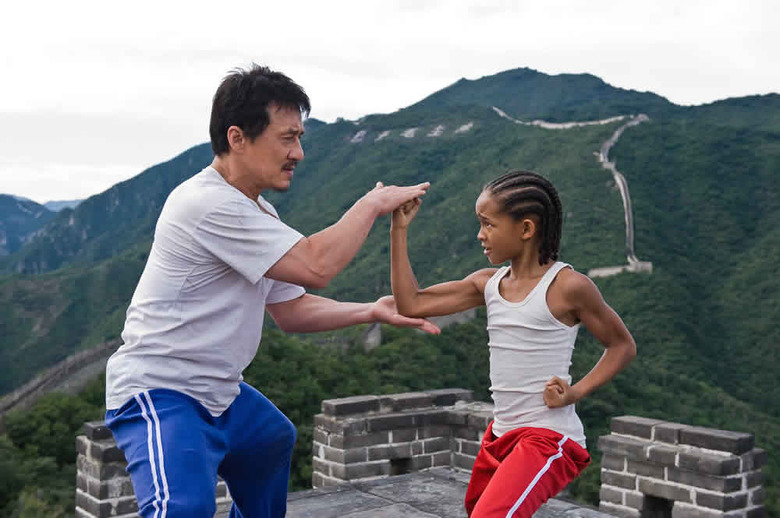 The Karate Kid easily owned the weekend box office in its debut outing, thrashing The A-Team by a margin of two dollars earned for every one taken by Joe Carnahan's TV revival. With Will Smith's son Jaden Smith and Jackie Chan earning $56m, well surpassing expectations, do you think there will be a sequel? In 2010 Hollywood, it's almost certain, even if sequel fatigue is beginning to set in.
Director Harold Zwart says that ideas have been discussed, and now that the returns are in, I'd guess we'll hear about sequel plans very soon. In the meantime, check out Zwart's plans after the break.
If there's any silver lining here, it's that, as he told MTV, Zwart would prefer to do an all-new story (I hesitate to say 'original') rather than remake one of the existing Karate Kid sequels.
I personally think it's now so much on its own two feet, given the success, that it would be interesting to see where we could take it without ever thinking about the old ones.
Not that there are any particular plans in mind at the moment.
Every now and then we discussed it...But the truth is, when you see Jackie and Jaden, they're like a really good film couple. On and off camera, I was watching how they were pulling practical jokes on each other and throwing rocks in the lake, and you just want to keep looking at them because they have a great dynamic and great humor. We have just been playing with a few different ideas, but we haven't landed on anything at the moment.
But expect that to change fast, even though based on the performance of other big films this summer, studios might soon be getting sequel-shy. When you've got a family film that hits like The Karate Kid did (even if $56m isn't a monster hit by summer standards) you can bet that any sequel fatigue will be put aside to further mine whatever pleased audiences so much the first time.