Casting Notes: Bill Hader In Scott Pilgrim; Zach Galifianakis As The New Incredible Mr. Limpet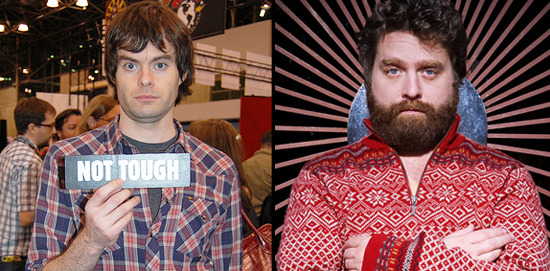 We've known most of the cast of Edgar Wright's upcoming Scott Pilgrim vs. The World for some time, but a tweet from the director today revealed one more name we didn't previously have: Bill Hader. Wright said, ""Just did some final ADR sessions with Jason Schwartzman, Garth Jennings and Bill Hader." He followed that up with a note that "Those with sharp ears can hear Mr. Hader in the trailer."
So who does he play, or voice? I'll save the supposition about Hader's role until after the break, just in case you're trying to remain as ignorant of Edgar Wright's new movie as possible. Also after the break, will Zach Galifianakis be the new Incredible Mr. Limpet, once brought to life by Don Knotts?
Given that we can hear Hader's voice in the trailers, and that there aren't any real characters left to uncover, the best guess is that he voices the video game announcer heard a few times throughout the film. You'll hear his 'KO!' and 'combo!' exclamations in Street Fighter style...if in fact that's Hader's role. [Twitter, via Gordon and the Whale]
The weirder news is that a revival of The Incredible Mr. Limpet is still in the cards, and that the lead role, once played by Don Knotts, may go to Zach Galifianakis. (We've known about the remake for a year; it's the casting that is new.)
The LA Times says that, since Kevin Lima (Enchanted) was tapped as director last year, the biggest movement on the film has been the interest in Galifianakis, who is in talks with producers to lead the revamp of the live-action animation hybrid wherein the main character transforms into a fish and fights Nazi U-boats. That's the plot (loosely) of the original film, at least; we don't know if any updating has taken place. I'd pay to see Galifianakis tackle Somali pirates. In the sequel, he could plug a Gulf Coast oil spill...