Atlas Shrugged Is Filming; One Tree Hill's Paul Johansson Starring And Directing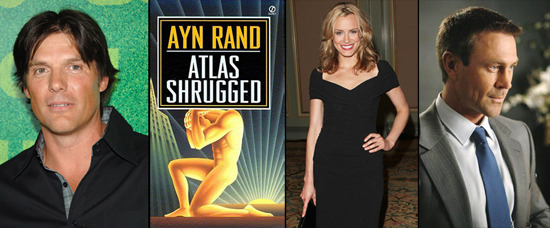 Atlas is finally shrugging towards theater screens. A few weeks ago we told you that producer John Aglialoro was going to get a feature version of Ayn Rand's novel together come hell or high water. And, indeed, cameras started to roll on Atlas Shrugged Part One over the weekend. Who are the star and director? Same guy: Paul Johansson, of the TV show One Tree Hill.
When last we reported on this, Stephen Polk, son of former MGM chairman Louis Polk, was set to direct. At some point in the past couple weeks Johansson came on board. He has directed a few things in the past, most notably a dozen episodes of his show. And if he wanted a feature career, he's found one of the more uniquely Hollywood ways to jumpstart one: agree to direct a last-minute production of a massive novel for a producer who has to start shooting NOW or else lose the rights he spent a million bucks on almost twenty years ago. Variety reports that Aglialoro would have lost the rights if the film didn't go into production by Saturday.
Five weeks of shooting are scheduled for the $5m production. (Yeah, that's right — $5m to film even a chunk of the massive novel? Alright...) The production is still based on a script that Aglialoro wrote with Brian Patrick O'Toole. As this film is labeled 'part one,' we can expect at least a part two — Aglialoro says that will shoot after this one is complete. (So, in seven weeks or so?)
Johansson plays John Galt, while the Dagny Taggart role went to Taylor Schilling from Mercy, and Henry Reardon is played by Grant Bowler from Ugly Betty and Lost. Also in the cast are Edi Gathegi, Jsu Garcia, Rebecca Wisocky, Ethan Cohn, Patrick Fischer, Neill Barry, Christina Pickles and Nikki Klecha.