/Film Boston: Interview With Mark And Jay Duplass, Directors Of Cyrus; Free Tickets To Cyrus Screening On Wednesday (6/23)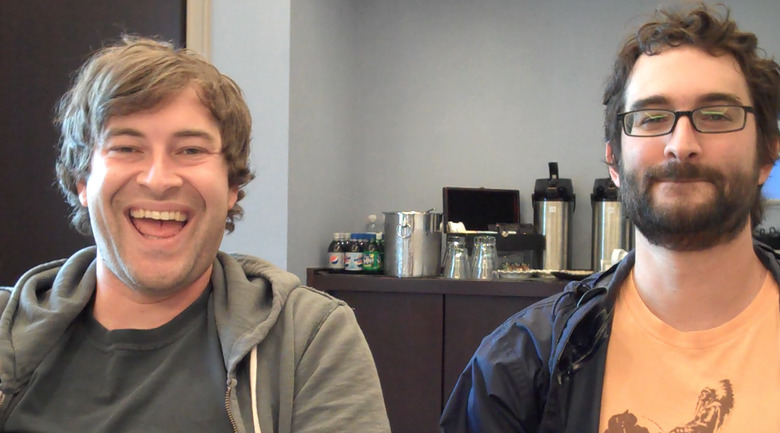 Lots of cool film-related stuff happens in Boston, Massachusetts and not that many people are here to document it, preserve it and spread the word about it. Special screenings, Q&As, panel discussions — we have them all, and frequently too. /Film Boston aims to be a bi-weekly column that will bring you audio and video content from film-related events around the Boston area. If you don't live in Boston, I hope that this column will give you a window into some of the cool stuff that happens here regularly. If you do live here, hopefully you'll come here to get the heads-up on what's been going on, and what is to come. As always, every edition of /Film Boston is available at http://www.slashfilm.com/boston.
After the break, a hilarious interview with Jay and Mark Duplass, the directors of Cyrus (at least, it was hilarious for us). Plus, your chance to get free tickets to a screening of Cyrus this Wednesday at the Boston Commons AMC at 7 PM.
Press days can be challenging affairs. Oftentimes, movie studios put the talent in one room for a day full of interviews with a constant, revolving door of entertainment journalists. Under these circumstances it's possible for anyone to lose their mind a little bit.
By the time I spoke with the Jay and Mark Duplass, whose new film Cyrus is out in limited release this weekend, they were already pretty loopy. (Side note: I'm a huge fan of the film and think you should check it out if it's in a theater near you). The brothers were here for a special screening of Cyrus at the Kendall Theater, followed by a Q&A. I was probably their 10th or 12th interview for the press day afterwards, and I'm always grateful to anyone who can muster the energy to speak with me after they've given others the same answers over and over again.
Since I'd already interviewed Mark before (a Sundance interview which I encourage you to check out), I gave the brothers permission to relax and cut loose during my time with them. Hit the jump to see the result. Cyrus is in New York and LA this weekend, and expands wide next week.
***
This week on Wednesday, June 23rd, Fox Searchlight is hosting a special advanced screening of CYRUS in Boston, and /Film readers are invited!  Tickets for this event are free, but expected to go quickly. You must have a ticket to attend this screening, and you may bring a guest!
Again, the details are:
Wednesday, June 23rd, 7 PM
AMC Loews Boston Commons 19
175 Tremont Street
Boston, MA 02111
TO DOWNLOAD A SCREENING PASS
==============================
1) Go to http://www.gofobo.com/rsvp
2) Enter the following RSVP Code: SLASHMVU1
3) You will be prompted to create a gofobo account, if you don't have one already. Sign up, print the pass and attend the screening!
Please note: Remember to arrive early as screenings are always overbooked to ensure a full theater. Seating is first come-first served, and is not guaranteed. However, if you show up at around 6:00pm-6:15pm, you will have a pretty good chance at getting in. Enjoy the free screening!
***
Here's some other cool stuff that's happening in Boston in the near future (some info via the Boston Screening Community). Information is subject to change, so always check with the source before trekking out to the screening:
Monday, 6/21 - Brattle Theater is hosting a screening of 45365 with a filmmaker Q&A afterwards. I have heard amazing things and can't wait to see it. I will try to have an interview with Turner Ross for the next edition of /Film Boston.Thursday, 6/24, 6:00 pm – Brett Easton Ellis will be presenting his new book at the Harvard Book Store.Friday and Saturday, 6/25 and 6/26, 11:59 PM - Coolidge Corner is hosting screenings of Troll 2.Friday and Saturday, 7/2 and 7/3, 11:59 PM - Coolidge Corner is hosting screenings of Independence Day.Throughout the next two weeks - The Harvard Film Archive has an amazing series on science fiction films from the 1970s.
***
For now, /Film Boston is an experiment, a movie travelogue of sorts. I know the camera audio/video quality can be better, but I hope you find it viewable/listenable, as well as entertaining and interesting.
Hosting an event in Boston that you want me to cover? E-mail me at slashfilmcast(AT)gmail(DOT)com. Readers should also feel free to e-mail me if you have any other feedback, or any ideas of what you'd like to see here. What do you like about the column? What don't you like? etc.Like /Film Boston? Subscribe to it by RSS or by e-mail below to receive updates automatically:
Delivered by FeedBurner